Katy Perry Just Won A Massive Lawsuit Alongside The Catholic Church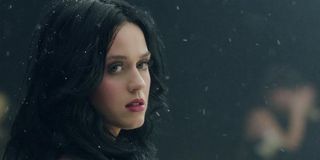 Katy Perry recently fell back into the good graces of the Catholic Church by linking up with the Church itself to go to bat in court against a businessperson who sideswiped her chance at acquiring a property. It all started when Perry set her eyes on buying a former convent in Los Angeles and agreed to take the estate for $14.5 million in 2015. Two nuns who once lived there opposed Perry's bid because they objected to her image, so they sold the former convent to someone else. However, the nuns did not have permission from the archdiocese to sell the estate, so the case landed in a California court, where a jury sided with Perry and the Church.
Reportedly, Sister Rita Callanan and Sister Catherine Rose Holzman disliked Katy Perry's provocative image, even though Perry explained how she came from a Catholic background and had a Jesus tattoo. Once, Perry stopped to talk to the sisters and sang "Oh Happy Day" as a treat to bring them to her side. However, the nuns wanted none of it. Sister Rita Callanan later told reporters,
The nuns then sold to California restaurant entrepreneur Dana Hollister for $44,000 up front and $9.9 million in three years--still but a fraction of the price Katy Perry had agreed to pay. Apparently, Hollister wanted to turn the convent into a boutique hotel. However, Sister Rita Callanan and Sister Catherine Rose Holzman did not have Archbishop Jose Gomez's permission to sell the property to Hollister or anyone else. In the same way, the nuns needed the support of the Vatican, which weighs in on sales of property worth more than $7.5 million, so says BBC.
The case moved to court, which found in favor of Katy Perry and the Catholic Church. But it was not so simple as Dana Hollister turning over the keys to the "Chained to the Rhythm" singer and calling it a day. Instead, the court found that Hollister acted with malice to get her way and make sure the property sale went through. The court ordered Hollister to give $3.47 million to the archdiocese. Furthermore, Hollister had to pay Perry's Bird Nest LLC's $1.57 million legal fees. Moreover, Hollister was ordered to pay $10 million in punitive damages, two-thirds of which goes to the Roman Catholic Archbishop of Los Angeles--the rest goes to Perry.
Unfortunately, Dana Hollister has assets of about $4 million but no more, according to her lawyer, Michael Geibelson. Thus, Hollister cannot pay these fees in full. However, Geibelson says Hollister most likely will appeal the decision, so perhaps she will get the court's decision changed, reduced, or even reversed. Regardless, it sounds like a scary financial spot for Hollister.
Katy Perry, on the other hand, apparently plans to move forward with her wish to own the estate. Perry's lawyer told reporters the pop star "is extremely pleased with the jury's insight and understanding" during the court proceedings. We'll have to stay tuned to see if Perry ends up owning the eight-acre property once and for all or if her courtroom foe finds success in an appeal.
Up next: Katy Perry Took A Shot At Meghan Markle's Wedding Dress
Your Daily Blend of Entertainment News
Your Daily Blend of Entertainment News
Thank you for signing up to CinemaBlend. You will receive a verification email shortly.
There was a problem. Please refresh the page and try again.