Orlando Bloom Also Wanted Katy Perry To Get Naked During Paddleboarding Incident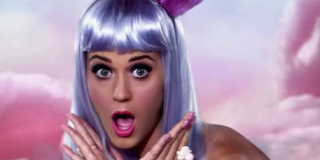 Orlando Bloom made headlines in August 2016 when the paparazzi caught him naked on a paddleboard while on vacation with Katy Perry. The 40-year-old actor and Perry were spending an Italian holiday together when the photographers found the pair. Apparently, Bloom asked the "Swish Swish" pop star to join him in the buff, but she declined because she was not feeling into it at the time. In a recent interview, Perry explained what happened and said,
Katy Perry suggested Orlando Bloom might have stripped down to show off to onlookers back on the shore. The singer-songwriter noted how she and Bloom had previously talked about the power of social media. She indicated that Bloom's social media prowess was not up to snuff before the paddleboard photos went viral. However, Perry teased that becoming a top-trending topic on Twitter thanks to the paddleboarding photo helped Bloom become a social media expert.
During the interview with Kyle and Jackie O on Australia's KIIS 1065, Katy Perry joked that the paddleboarding photo was a topic she broached during her therapy sessions. Later, Kyle and Jackie O took to Twitter to post the infamous photo along with the 32-year-old musician's response. Check it out here:
In May, Orlando Bloom gave his two cents about how shocked he was when the photographs of the paddleboard moment surfaced. In an interview with Elle UK, the Pirates of the Caribbean actor said he and the future American Idol judge had been alone for five days. He was certain there was no one around. He said,
Orlando Bloom is not the only ex-boyfriend whom Katy Perry has dished about in recent times. During an interview with James Corden, part of the promotional efforts for her latest album, Witness, Perry ranked three of her exes based on their performance in bed. Orlando Bloom ranked higher than Diplo but lower than John Mayer.
Katy Perry ranked her exes in a lighthearted way because she holds no ill-will toward any of them, especially Orlando Bloom. In fact, Perry and Bloom ended their relationship on a good note, and both of them said they planned to remain friends. Surely, the paddleboard photo will always be a hilarious memory the pals can look back on down the road.
Your Daily Blend of Entertainment News