Justin Bieber's Mom Really Loves Selena Gomez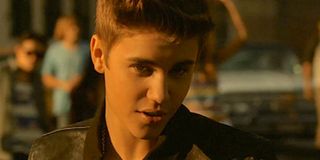 Justin Bieber's mom, Pattie Mallette, recently shared lovely words about her son's relationship with Selena Gomez. Evidently, Mallette is on board with the relationship not only because Gomez makes Bieber happy but also because the 25-year-old "Wolves" singer genuinely is a delight. Mallette told reporters she did not know a lot about Bieber and Gomez's "personal relationship," as Bieber rarely says much about his love life. Still, Mallette said,
The kind words support the notion that Pattie Mallette cares about her pop star son's happiness. They show that Mallette thinks Selena Gomez could be a part of that joy. Mallette also told People that her son seems to be "keeping his focus on God, and really trying to figure out what counts and what matters" in life. Mallette acknowledged how proud she feels of Bieber, and Mallette said her son has grown up a lot. Mallette added Bieber wants to lead a "normal" life despite the "abnormal" circumstances of his pop star world, and she said he is "trying to find that balance," perhaps by keeping his priorities straight with spirituality and close relationships with people like Selena Gomez.
Clearly, Pattie Mallette has Justin Bieber's best interest at heart. Although Mallette did not precisely say how she feels about reports covering the ups and downs of the relationship over the past several years, she did talk about how she sees relationships in general as good ways to keep people in a stable place. As Mallette had shared those words about Bieber needing to keep himself balanced, she probably is a fan of his relationship--even if that relationship has been tough at times. Mallette added,
And it is clear Justin Bieber and Selena Gomez do care for each other and enjoy sticking together. Their on-and-off relationship began back in 2010. They dated at various times over the next several years, but ended things in 2015. Gomez dated The Weeknd for nearly a year starting in 2016, but she recently split up with him around September or October of this year.
Around the same time, rumors were swirling Justin Bieber and Selena Gomez were spending time with each other. Those stories turned out to be accurate when the paparazzi caught up with them enjoying escapades like coffee dates and bike rides around town. It is worth noting that some members of Gomez's family have expressed their dismay at the idea of Bieber and Gomez back together, as they suggest her times in rehab might have been a result of her roller coaster of a relationship with him. But at least the lovebirds have Mama Mallette's approval.
Besides, it seems like what brought them back together was pretty positive. The word on the street was that Justin Bieber realized how much he cared for Selena Gomez when he learned about her kidney transplant surgery, so he tried hard to reconnect with her and finally managed to do so. Now the pair is enjoying their time together again. This time, it seems like they are in a great place and headed in a positive direction. Here's hoping that sentiment proves true.
Your Daily Blend of Entertainment News
Your Daily Blend of Entertainment News
Thank you for signing up to CinemaBlend. You will receive a verification email shortly.
There was a problem. Please refresh the page and try again.