18-Year-Old Tom Hanks Had A Hilarious Proposal For Being Discovered, Read It Here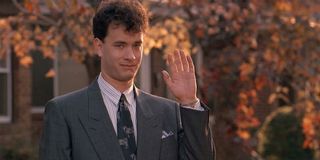 It's difficult to imagine Tom Hanks as an unknown teenager trying to get his break. It seems like the award-winning actor was just always at the top, without much build, just placed there to forever live and breathe. But recently a rare Hollywood treasure was revealed that gave us a look into the mind of 18-year-old Tom Hanks, long before his time on the Oscar-winning throne, asking critically-acclaimed director George Roy Hill to 'discover' him.
NPR took a dive into the vaults of the Margaret Herrick Library which contains millions of director's shooting scripts, photos, production designs, and best of all, fan mail. And one letter they found, which they described written in 'labored teenage handwriting on lined notebook paper' was written by none other than 18-year-old Tom Hanks addressed to director George Roy Hill just after he'd won the 1974 Oscar for Best Director. Hanks was ready for his big break. And he wanted Hill to be the guy who discovered him. And here's how 18-year-old, completely unknown Hanks proposed it would go down.
Tom Hanks, you masterful genius. There's a reason he's everyone's favorite movie star, and here it is. It was happening long before Cast Away or Forrest Gump or even Big. He's just an all-around witty, likable guy. And on top of that wit came some hysterical self-deprecating humor sprinkled in as well. I think my favorite line in the letter is, "I am not built like a Greek God, and I can't even grow a mustache, but I figure if people will pay to see certain films...they will pay to see me." And well, Tom Hanks, you were spot on. Now Hanks is ranked the second highest box office star of all time, is one of the most beloved actors of all time, and even has an asteroid named after him!
Hanks actual discovery happened the old-fashioned way, he spent years studying theater, interned in theater production, and eventually was noticed for an outstanding performance as Proteus in Shakespeare's The Two Gentlemen of Verona. Director George Roy Hill on the other hand, known for his directing on films such as Butch Cassidy and the Sundance Kid and The Sting never got his chance to work with the actor. But in our minds, we can pretend Hanks got his big break from replacing an actor who broke his leg and --BANGO.
Your Daily Blend of Entertainment News
Thank you for signing up to CinemaBlend. You will receive a verification email shortly.
There was a problem. Please refresh the page and try again.