What We Know About Ben Affleck's New Girlfriend, Lindsay Shookus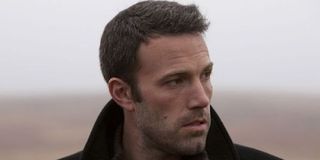 Academy Award-winner Ben Affleck might have a new leading lady in his life. The 44-year-old actor is reportedly dating Lindsay Shookus, a Saturday Night Live producer. Reports about the budding relationship arrive about three months after Affleck and Jennifer Garner made their divorce official and nearly two years since Affleck and Garner parted ways.
The paparazzi spotted Ben Affleck and Lindsay Shookus out and about in Los Angeles earlier this month when the pair stopped by the restaurant Giorgio Baldi for a date night. Supposedly, Affleck and Shookus had a great time at dinner and did a bit of canoodling there before they left out the back door. The rumor mill has also stated Shookus may have been in Affleck's life for quite a long time prior to the recent three-month relationship, and we do know that Ben Affleck's personal life with Jennifer Garner had its ups and downs before they ultimately split. But take that one with a grain of salt.
Eyewitnesses earlier this month told E! News that the pair appeared happy. However, it was not the first time Ben Affleck and Lindsay Shookus spent time together. The new couple also hit the town together when they were both in London. They apparently took in a performance of the show The Ferryman in the West End.
Some reports have said Lindsay Shookus resembles Gwyneth Paltrow, who used to date Ben Affleck. Furthermore, people have mentioned how Lindsay Shookus once played a body double for Jennifer Lopez, who also dated Affleck for a long time. Perhaps he has a type?
Ben Affleck and Jennifer Garner filed for divorce on the same day in April of this year. The news arrived nearly two years from the time that they first separated. Now Affleck and Garner retain equal custody of their three children: 11-year-old Violet, eight-year-old Seraphina, and five-year-old Samuel.
Since the split, Ben Affleck has talked about how grateful he is to have Jennifer Garner as his co-parent in the arrangement. Meanwhile, Garner continues to speak highly of her ex-husband. The mature way they have handled themselves in the wake of their breakup mirrors the statement they released upon separating back in 2015. In the message, they committed to move forward in a friendly way to benefit their situation.
Jennifer Garner might not yet have begun dating anyone else. In fact, she recently denied a tabloid article that tried to presume how she was doing after the divorce. Garner made a statement at that time to let people know she felt complete regarding family because she has her three children.
It seems Ben Affleck and Jennifer Garner have done an excellent job honoring their focus on the kids. In fact, the family spent time together on the Fourth of July. Garner participated in a 3K race near her home, so Affleck stayed with the kids on the sidelines where they cheered for her. Afterward, the family celebrated the holiday with neighbors and went to see some local fireworks.
At this point, there are no questions about Ben Affleck and Jennifer Garner getting back together. So, if the Justice League and Batman V Superman actor is moving on by dating a new woman, it probably is a healthy sign. We'll have to stay tuned to see if we catch more of Affleck and Lindsay Shookus spending time together down the road.
Your Daily Blend of Entertainment News
Thank you for signing up to CinemaBlend. You will receive a verification email shortly.
There was a problem. Please refresh the page and try again.