Chris Pratt and Katherine Schwarzenegger's Relationship Timeline And Engagement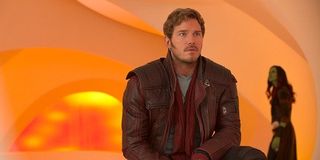 Some Hollywood couples seem like perfect matches, while other tabloid-friendly flings appear to happen almost completely out-of-the-blue. One good example of the latter is Chris Pratt's newest long-term relationship. After the Guardians of the Galaxy actor finalized his divorce papers with Anna Faris, Pratt surprised everyone in late 2018 when he announced that he was in a blooming, fully-committed romance with author Katherine Schwarzenegger.
During the early days of their relationship, there weren't too many people clued into Katherine Schwarzenegger and Chris Pratt's love affair, and it certainly came as an unexpected announcement to fans who still hold fluttering feelings for his marriage to Anna Faris. Nevertheless, the surprises kept coming when Chris Pratt announced he was engaged. They kept their relationship discreet early on, but now Chris Pratt and Katherine Schwarzenegger are engaged and a wedding is on the way, we have more details to share about how their relationship started and how they became a couple.
With that, here's a breakdown of Katherine Schwarzenegger and Chris Pratt's relationship — at least, as far as we know given speculation is sometimes rampant. Without further ado, here's how this couple got together!
Chris Pratt's Divorce From Anna Faris
For nearly 10 years, Chris Pratt and Anna Faris were fostering one of the most adorable marriages in Hollywood. At the time, Anna Faris was the more famous of the two, as the actress was best known for her roles in Scary Movie 1-3, The House Bunny and several other '00s comedies. They were married back in 2009, just before Pratt would become known as "The Parks and Recreation Guy." The couple initially met in 2007 for a table read of their long-delayed film, Take Me Home Tonight, which was eventually released with little fanfare in 2011.
Anna Faris and Chris Pratt were still married when Chris Pratt hit the big time with 2014's Guardians of the Galaxy, which propelled the sitcom actor in A-list territory. They share one son together, Jack Pratt, who was born in 2012. And it was shortly after Pratt was having a hard time juggling his family time with his exploding career, particularly with additional roles in Jurassic World and other blockbusters, that the ex-couple formally announced their plans to separate in 2017.
The couple told (or assured) their growing fans they still cared for one another and that they were still friendly. Still, Anna Faris and ChrisPratt officially dried the ink on their divorce papers in October 2018, marking the end of their relationship shortly before what would have been their 10-year anniversary.
How Chris Pratt And Katherine Schwarzenegger Met
Believe it or not, Chris Pratt and Katherine Schwarzenegger were reportedly first introduced to one another through Katherine's mom, Maria Shriver. According to a source for People, the mom played matchmaker for the soon-to-be couple, as she "set up" a connection for them that would begin to grow thereafter. Apparently, Chris Pratt and Maria Shriver had mutual friends, which found them interacting with each other. Once she got to know Chris Pratt more, she believed he would be a good suitor for her daughter.
It's not clear when Katherine Schwarzenegger and Chris Pratt had their first date, but it's believed that they were dating for "two months or so" prior to their first public outing on Father's Day 2018. Therefore, there's a good chance that they were starting to date around March or April of last year, if not earlier, and it sounds like they hit it off instantly.
They would reportedly talk to each other "consistently," according to a source for E! News. While Chris Pratt was reportedly trying to take things with Katherine Schwarzenegger slowly at first, particularly given his then-ongoing divorce, it didn't take long before they started going steady, steady for good.
Outings They Went On/Meeting the Family
In the early months of their relationship, leading up to the summer of 2018, Chris Pratt and Katherine Schwarzenegger were quick to get friendly. They were spending more and more time with each other, and they were starting to spend more time in public as well — even if they didn't officially confirm their relationship. They made their red carpet debut in April 2019, when they were seen at the premiere of Avengers: Infinity War together. Plus, they were quickly-and-surely getting to spend more time with their respective families as well.
In July 2018, Katherine Schwarzenegger had a chance to get acquainted with Jack Pratt, Chris Pratt's then five-year-old son. Schwarzenegger and Pratt are both spiritually minded, and they were seen attending different church services together. Jack Pratt joined them for at least one religious outing in this capacity during the height of the summer; they even reportedly got ice cream together!
Additionally, Chris Pratt got a chance to meet Katherine's family, including Patrick Schwarzenegger, and they allegedly got along well. Maria Shriver was, of course, already a friend of Pratt's, and the rest of the family seemingly took to the actor's charms as well. Also in that time, Pratt and Schwarzenegger were spending more and more time together, and Schwarzenegger was getting to know Jack Pratt more and more as well. Family is a big deal for Chris Pratt, and knowing that his girlfriend was getting along with Jack Pratt was definitely encouraging for the actor. At this point, it was clear to Chris Pratt and Katherine Schwarzenegger that their relationship was getting very serious.
Engagement
Chris Pratt formally announced his relationship to Katherine Schwarzenegger in December 2018. In a sweet, emotional Instagram post, Pratt wished his girlfriend a happy birthday by saying he has "cherished" their time together and that he thanked God for introducing her into his life. For many folks, this is the first time they discovered that Chris Pratt was dating another woman. It might also have been their introduction to Katherine Schwarzenegger, who has written several books for adults and children but is also known as the daughter of actor/politician Arnold Schwarzenegger.
Nevertheless, while some people didn't exactly know what to make of this new celebrity couple, it didn't matter what they thought. Because things between Chris Pratt and Katherine Schwarzenegger were execrating in rapid fashion. Just one month later, Chris Pratt and Katherine Schwarzenegger announced their engagement.
Pratt wrote in his address to his partner that he was "so thrilled" to be marrying Schwarzenegger and was "proud to live in faith" with her. Similarly, Katherine Schwarzenegger wrote that she "wouldn't want to live with anyone" but Chris Pratt by her side. Romance was most certainly in bloom. By now, the public was fully aware of their relationship.
Wedding Plans
There is no official date yet for Chris Pratt and Katherine Schwarzenegger's wedding (at least, as far as the public knows). This is common for celebrities though. Beyond this, we do know they are expecting to celebrate their nuptials in the fall or winter. That means they'll likely married either in late 2019 or early 2020, which would mean they'll be married around two years after they first met.
While Chris Pratt is keeping himself busy with a number of different projects, including the promotional rounds for Avengers: Endgame, the actor has been lending his time to the preparation process as well, reportedly getting "really involved" with the planning, as Schwarzenegger told ET.
Additionally, the wedding isn't expected to be quite as glamorous as your typical A-lister's wedding. They are planning to make it an intimate affair, according to a source close to the couple, and they will probably be inviting only a handful of people to attend their big day. The couple has been very traditional in their wedding preparations thus far. Particularly Chris Pratt, who went the old-fashioned route and asked Arnold Schwarzenegger for his permission to marry his daughter. Arnold reportedly gave him his hearty approval.
Plans For The Future
While Chris Pratt is still keeping busy with this different acting commitments, including his work in the Guardians of the Galaxy series and with the Marvel Cinematic Universe as a whole, it sounds like he's willing to pull out the brakes once he gets married to Katherine Schwarzenegger. During a red carpet event ahead of the release for The Lego Movie 2: The Second Part, he admitted that family was something he wanted to continue to focus on. He wasn't afraid to turn down some offers and gigs if it meant spending more quality time with his expanding family. Here's what he told ET:
It sounds like things are already moving forward quickly. Shortly after they announced their engagement, the couple found a house near Anna Faris and Jack Pratt and moved in to the Los Angeles-based residence. As agreed upon during their divorce settlement, Chris Pratt and Anna Faris are planning to spend the next few years living close to one another in order to be there for their son's growth and development.
It sounds like the bliss Pratt and Schwarzenegger have felt since they've gotten together hasn't died down in the slightest since. Hopefully, more happy days will await.
With that, it sounds like things between Chris Pratt and Katherine Schwarzenegger are currently quite steady. While they got together quickly -- likely causing a few folks to have whiplash at the turnaround -- it's apparent that Katherine and Chris care about each other immensely and are working to make their relationship longterm. We'll continue to keep you posted on the details surrounding their cute, committed relationship — including their upcoming marriage — here at CinemaBlend.
Your Daily Blend of Entertainment News
Will is an entertainment writer based in Pittsburgh, PA. His writing can also be found in The Playlist, Cut Print Film, We Got This Covered, The Young Folks, Slate and other outlets. He also co-hosts the weekly film/TV podcast Cinemaholics with Jon Negroni and he likes to think he's a professional Garfield enthusiast.