5 Devastating Knockouts By Mirko Cro Cop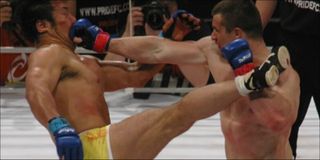 If the Blacksmith from RZA's martial arts' epic was known as "The Man with the Iron Fists", I'd like to imagine that famous Croatian fighter and former police specialist Mirko "Cro Cop" Filipovi? should be known as "The Man with the Iron Legs". This guy has been on the receiving end of quite a few hard shots from some of the world's best fighters over the years, but collectively, they don't compare to the staggering punishment he's dished out.
Just as a little history lesson, Mirko has competed around the globe, gained the infamous "Cro Cop" nickname for being a former Croation elite enforcement agent, worked in politics, won several successful UFC bouts and managed to become the "hero" of the K-1 squared circle.
Spanning many different venues, extremely competent fighters and plenty of unmentionable injuries, the following list is a collage of some of Mirko's best knockouts that took place in the ring.
No. 5 Cro Cop Vs Dos Caras Jr.
This fight doesn't last too long, but it lasts long enough for everyone to get an idea of just how dangerous a kick to the head can be. The fight is against someone many pro wrestling fans of today's WWE product might better recognize as Alberto Del Rio. That's right, back in his MMA days, Del Rio – whose real name is Alberto Rodriguez – went by his MMA name, Dos Caras Junior. His impromptu fight against Mirko wasn't a pretty one, but we at least have to give Del Rio his due for even stepping into the ring with one of the most dangerous fighters on the planet.
(Main image courtesy of Yahoo Japan)
No. 4 Cro Cop Vs Yoshihisa Yamamoto
This is the kind of fight that makes you shake your head in shame. If you're going to taunt one of the most dangerous strikers in MMA, you better be able to back it up. Yamamoto went in with the kind of arrogance only someone with equal amounts of skill should exhibit. Sadly, Yoshihisa-san didn't seem to have the skill to speak in the same volumes as his mocking gestures. He paid for it with the kind of precision striking that makes Cro Cop a surgical master at the knock out game.
No. 3 Cro Cop Vs Mark "The Hammer" Coleman
Okay so that last entry got you a little bummed? No problem, we'll pick up the fumble and recover it with a real knockout fight between the legendary (but somewhat overrated) Mark "The Hammer" Coleman and Croatia's own pro cop. The fight clip above gives you a nice rundown between these two brutes as Mirko absolutely dominates against "The Hammer"... in fact, you could say that Mirko's uppercut combo really "nailed" Coleman... am I right? Am I right?
No. 2 Cro Cop Vs Mike Bernardo
Back in 1999, before he had established the same level of dominance in the MMA field that he has accrued over the years, Mirko was facing down against a lot of up-and-comers throughout the K-1 promotion, including facing down against a very vicious and strong-hearted Mike Bernardo. Of course, a lot of heart, a bad attitude and plenty of laser eye-contact just isn't enough to stop a deadly left kick from the "Croatian Cop". Of course, you don't need me to tell you that... the video above does a perfect job of illustrating that stature won't stop a proper kick from knocking you clean out.
No. 1 Cro Cop Vs Wanderlei Silva
Oh man, this video will have you screaming all sorts of excited expletives while your fists are clinched and your eyes are gleaming with intense attention paid to every moment happening on-screen. This was such a vicious fight. Silva had something to prove, Cro Cop had something to maintain. Silva wanted to go in there and finally cement his legacy against one of the greatest MMA fighters in history. Cro Cop simply had to maintain that legacy against someone who was hungry for it... hungry for the chance to add a victory over a legend. Sadly, hunger wasn't enough to put away the dynamite kicks from one of the greatest fighters to step into the squared circle.
Your Daily Blend of Entertainment News
Staff Writer at CinemaBlend.