5 Solid Albums That Pandora Or Spotify's Algorithms Might Not Suggest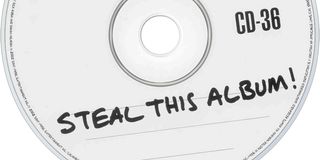 What kind of music do you like? Ok, that might be too broad of a question…What kind of new music have you been digging? Alright, still broad, but we're getting somewhere… It's not like answering those questions are tough, it's just that there is so much music to listen to and so little time. For most people it is tough to go out and search for music yourself.
But luckily in this day and age programs like Spotify and Pandora are all the rage because of their algorithm based playlists that help you quickly find music you'll probably like; based on previous search results of bands/artists you've listened too. But in this algorithm based generation we live in, sometimes those playlists still make it hard to find good music you really like. So where do you start if you wanted to find music on your own?
With the wide variety of music that's available today, it's still hard to find a place to wet your feet, so to speak. Which is why this column was created for you, oh joyous music fan. I took it upon myself to share 5 of the albums I feel anyone can enjoy; no matter what music you generally listen too. Although I don't have your previous search history, good tunes are still good. So read my descriptions, learn about the bands, albums, and styles of music that you might not have known about unless you read this article. You might enjoy, or even love, some of these. Call me the Cinema Blend algorithm, if you will.
Neutral Milk Hotel - In The Aeroplane Over The Sea
Neutral Milk Hotel is one of those oddities that most casual music listeners have never heard of. Although the band's second and last album In The Aeroplane Over The Sea is a highly regarded piece of music in the indie community, most folks outside of that group don't know this album exists. But when you hear a band called Neutral Milk Hotel, with an album titled In The Aeroplane Over The Sea, what do you feel? Probably not an urge to listen to them; but if you do give this band's seminal record a shot, you'll be surprised by how these 11 songs existed without your ears ever taking notice. I will say this though: In The Aeroplane is a beautiful, yet emotional, album that really only gets better on repeated listens.
Mostly lush with acoustic guitars and singer-songwriter Jeff Mangum's emotive voice, this record will take you on an emotional journey of sounds, imagery, and melody that most albums in the past 20 years haven't even come close to achieving. Along with acoustic guitars, the band also sports organs, bagpipes, fuzzy bass guitars, horns, and a cacophony of other sounds that come together flawlessly in organized chaos. And don't forget about Mangum's poetic lyrics. With such staples as "when you were young, you were the king of carrot flowers" and "she was a little boy in Spain, playing pianos filled with flames," In The Aeroplane Over the Sea's kaleidoscopic song cycle turns into something otherworldly; but also grounded beautifully on earth.
Check out: The King of Carrot Flowers
If you like that…
Steely Dan- Can't Buy A Thrill
What are some of your favorite bands from the 70's? I'm asking the 20 something's in the audience. Most likely you're going to say Pink Floyd, Boston, Journey, The Who, or that little known supergroup Led Zeppelin. While those "classic rock" bands are among the finest of their generation, there's one that gets repeatedly left in the dust and forgotten by so many. That group is called Steely Dan; named after a strap-on dildo first mentioned in a William Burroughs book. Steely who? Ask your parents who they are, and they'll most likely know the band's strong hit single Reelin' In The Years from back in the day. They'll also say the band was too "arty" for their tastes, and your parents weren't wrong, but as In The Aeroplane Over The Sea should suggest "arty" is not necessarily a bad thing.
Coupled with their eccentric, often sarcastic lyrical themes, pop sensibilities, and the complexities of jazz, Steely Dan's founding members Walter Becker and Donald Fagen created their own unique sound that hasn't been duplicated. Crafting pop tunes that both fans of jazz and generic pop can salivate over, Steely Dan's seminal album Can't Buy A Thrill showcases everything this band was, and what they were capable of doing next. If you're in the mood for some melancholic lyrics about heroin addiction, fame, fortune, and loss of youth, all wrapped up in beautifully complex and melodic pop songs, then Steely Dan are totally for you.
Check out: Do It Again
If you like that…
Wu-Tang Clan- Enter The Wu-Tang (36 Chambers)
Oh, Wu-Tang Clan. What can be said about this New York based rap collective that hasn't been already said? Not only did the Wu spring an enclave of celebrated solo careers for its core members like Method man, GZA, Ghostface Killah, RZA, Ol' Dirty Bastard (RIP), Raekwon, and so many more, but their time as an ensemble also made for one of the most highly ambitious and arguably best rap albums of the 1990's with Enter The Wu-Tang (36 Chambers). Set over 12 nightmarishly beautiful songs, Wu-Tang created a hip-hop masterpiece that hasn't been replicated in sound, style, or ambition since its debut.
The reason for the album's critical acclaim is due to Wu-Tang Clan's core member the RZA, who produced and created the albums signature sound and style. RZA did this by melting together audio clips and samples from retro Kung-Fu movies, 60's soul music, and engineering a way to flawlessly give all 9 members of the group enough time to shine on all the albums tracks without ever sounding overstuffed.
Coupled with RZA's production duties and the variety of rapping talents from the other members, Enter The Wu-Tang (36 Chambers) is an historical album that takes a grim look at the horrors of street life, crime, death, and drugs, while simultaneously celebrating kung-fu movies, chess, and the dark themes it covers. What makes this album even better though is that these aspects combined never come off as kitsch.
Check out: C.R.E.A.M.
If you like that…
System Of A Down- Toxicity
I'll be the first person to say: I'm not a fan of metal. It might be that I'm just too dense of a music listener for the genre, but in all honesty, I hold heavy metal and all its incarnations (death metal, progressive metal, screamo, etc.), in the same ball park as genres like Country, Pop Punk, and mainstream sugar-Pop. It just ain't my thing. But alas, there is one metal band that I've been listening to for almost ten years, and that's System of a Down.
Although System is known for their aggressive music, and starting a whole "nu" metal scene, the band also had a knack for creating beautiful, poppy, and symphonic hooks amongst their more aggressive melodies. And nothing is more of a testament to that than their second LP Toxicity. Songs like Chop Suey, Aerials, Toxicity and many others on the album showcase their lighter sensibilities by segueing the heavier parts of a song into orchestrated pop melodies that could actually be considered, well, pop.
Main singer-songwriter Serj Tankian had a knack for lyrics about social injustice and political failures, but he also knew how to create a perfect juxtaposition between the sometimes heavy music and lyrics, with bright, technicolored moments of joyous pop. No other band has done anything quite like this, so I highly suggest you check out Toxicity.
Check out: Toxicity
If you like that…
Portugal. The Man - Evil Friends
It's apparent that the writers here at Cinema Blend really dig Portugal. The Man. The reason for our praise isn't unwarranted though, because simply put, P.TM is prolific. In the past 7 years of the band's existence they've released 7 full-length albums while managing to actually get better with each subsequent release. There's also a reason why Portugal. The Man is the only contemporary band on this list; they are one of the select bands that can transcend Proggy musicianship with Pop hooks that sink its claws right into your ears.
Like Pink Floyd before them, the Alaskan band has a cinematic sized sound that envelops you in melody, progression, and lead singer John Gourley's tender voice. The band's music takes you on a musical journey through dark, light, and all the colors of the spectrum. These are all the reasons why Portugal. The man's latest album Evil Friends is on this list. The fiendishly titled album is also gaining them some much deserved exposure too, with their titled track in the new Taco Bell commercial.
Evil Friends was produced by legendary musician/producer Danger Mouse, who's also worked with bands like U2, The Black Keys, Gnarls Barkley, Norah Jones, and Broken Bells among many others, and his glossy production adds an entirely new set of sounds and ideas for the band. Over the course of P.TM's career, they've created a name for themselves by making ridiculously infectious pop music, in the vein of the Beatles, yet in a truly progressive style. But Portugal. The Man's latest album Evil Friends is the perfect place to start before delving into their 7 other, equally fantastic, albums.
Check out: Holy Roller (Hallelujah)
And check out Taco Bell's commercial:
If you like that…
Your Daily Blend of Entertainment News
Thank you for signing up to CinemaBlend. You will receive a verification email shortly.
There was a problem. Please refresh the page and try again.