Chris Pratt Asked Fans For Photoshop Submissions, The Results Are Hysterical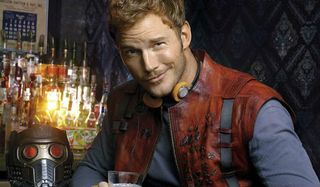 Whether it be Parks and Recreation, Guardians of the Galaxy, The Lego Movie or Jurassic World, there are too many wonderful Chris Pratt moments to count. Over the past few years the comical goober has seen wild success, and with that, an abundance of fans. So when the charming actor was put in a pickle, who is he going to call? Well his fans of course. Last night, Pratt reached out to his fans in the form of a Facebook status, to ask for their help in making the best FB header around. And boy did they deliver.
Photo Credit: Glenn Triggs
You would think that someone of Chris Pratt's status could easily just hire someone or ask a friend to create a cool header for his Facebook page. But why do that when you have the adoration of millions of talented fans? His status inviting fans into this contest of sort already has over 2 million likes, and thousands of submissions. Pratt asked for a few specifications, stating that he would like to have his four favorite characters in the mix: Peter Quill, Owen, Andy Dwyer, and Emmet, but aside from those, the entries can include anything that "looks badass". A few suggestions Pratt gives under that category include "some largemouth bass" or "a steak maybe even some corndogs". Here's the full status:
Pratt also makes note that fans should be sure to make their names clear on their entry, and who knows, maybe they'll even win a free dinner at Applebee's. Needless to say, there have already been a few fabulous entries. Star-Lord is going to have his work cut out for him in choosing just one.
There are those fans who hit pretty much every suggestion the actor put out:
Photo Credit: Cameron Attard
Or those who entered their own incredible original artwork:
Photo Credit: Evelien Vangrieken
And of course, my personal favorite, those who don't follow any of the rules and just stick to the classics (by classic I mean Andy Dwyer, of course):
Photo Credit: Kristen Nakel
But when all else fails, Chris Pratt x100:
Photo Credit: Sammy Wyatt Dunn
Your Daily Blend of Entertainment News
Thank you for signing up to CinemaBlend. You will receive a verification email shortly.
There was a problem. Please refresh the page and try again.