Watch Chris Pratt Get Goofy Warming Up For Stunts In Jurassic World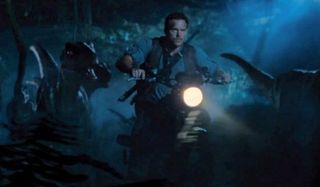 We all want to be BFFs with Chris Pratt. That's just the way it is. His appearances on Parks & Recreation, Moneyball, and heck, even Zero Dark Thirty, were layered with a genuine warmth, which didn't disappear when he lost all of his weight and turned into a hunk for Guardians Of The Galaxy. Now firmly established as one of the most engaging leading men in Hollywood, this Jurassic World behind-the-scenes clip proves that even monumental success can't stop him being a giant goofball.
The above footage simply shows that working with Chris Pratt would be a pretty terrific way to spend a few months. The cast and crew certainly appear to be having a good time. We also get a good look at the variety of jumps, slides, rolls, and pirouettes that Pratt had to conduct while filming. OK, there wasn't that much of that last one, but he was obviously being put through his paces for the shoot. Let's all thank the heavens that he'd prepared his body for his stunts, otherwise he could have done himself serious damage.
While the above clip is nothing but a frivolous behind the scenes glimpse at the atmosphere during production on Jurassic World, it does indicate just how integral it is to have someone of Pratt's comedic temperament and personality on set. I mean, how can you not look forward to going to work with this guy everyday?
Yes, behind him you can still see a whole host of people rushing around trying to get the next dino-tastic set-up in place. But, in the midst of people actually working, Pratt made sure to keep everyone entertained and laid back with his antics. And it clearly wasn't all for show. It just came naturally to him.
Jurassic World is now just around the corner and anticipation ahead of the fourth instalment to the hugely popular franchise is rising exponentially. In fact, it's already been predicted that Jurassic World will take in around $100 million over its opening weekend. And with Chris Pratt on-board, it's clear to see why. Jurassic World will hit cinemas on June 12th.
Your Daily Blend of Entertainment News
Your Daily Blend of Entertainment News
Thank you for signing up to CinemaBlend. You will receive a verification email shortly.
There was a problem. Please refresh the page and try again.