Dany's Hot Body Double On Game Of Thrones Vows To Stay A Virgin Until Marriage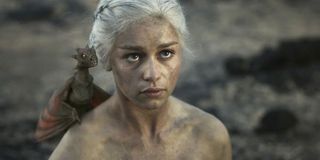 So there's no doubt in anyone's mind that Emilia Clarke, the actress who plays Daenerys Targaryen a.k.a. Khalessi in the hit HBO series Game Of Thrones is super sexy. So yes, of course her body double, Rosie Mac is as well. But despite the unwanted creepiness of those who try to court Rosie Mac via social media, the young body double has vowed to stay a virgin until marriage. Oh and she'd like it if people stopped sending her nude selfies, too.
The 18-year-old British model has become increasing popular thanks to her gig as Khaleesi's body double, and now as her Instagram page reached over 58.2 thousand followers, Rosie Mac has updated the status to state, "Virgin until marriage". That won't stop her endless stream of online courting though, especially as her Instagram only plays up her Mother of Dragon heat.
But the teenager is trying to keep her public image chaste with a vow. In an interview with The Sun she explained that she has always had high morals (via E! Online):
The model has admitted that she has already been engaged twice though (really?) but neither worked out, and she still is single. She also gets a lot of strange messages streaming in from social media. And explained to the Sun:
Well that's awkward. Because I'm sure everyone sending nudes to a Facebook account really truly thought that only Khaleesi's body double would see them, and she would instantly fall in love or message them back or whatever. You do have to feel bad for this young girl though. If anything, she's probably speaking out so that she doesn't get bombarded with dick picks every time she signs on to Facebook. Not sure if the virgin claim is going to fix that problem though.
Your Daily Blend of Entertainment News
Your Daily Blend of Entertainment News
Thank you for signing up to CinemaBlend. You will receive a verification email shortly.
There was a problem. Please refresh the page and try again.