Divergent's Veronica Roth Shares Updates On Allegiant And The Planned Tobias eShorts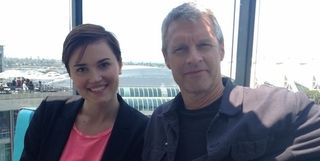 With Divergent headed into theaters next winter, the feature adaptation of the first book in Veronica Roth's trilogy got a fair amount of exposure at Comic-Con, due largely to its presence during the Summit Panel in Hall H. In addition to revealing the first footage from the film, Veronica Roth offered up an exciting update about the third book in the trilogy, Allegiant, stating that the last book would be split between two perspectives, Tris' and Four's. And there's more! We spoke with Roth earlier that day and she gave us some interesting tidbits about Allegiant and the planned Tobias eShorts!
The reveal that Allegiant would be told from Tris and Four's perspective was made during the panel, and marks a deviation from the first two books, which were both told in first-person from Tris' perspective. Roth didn't get into specifics beyond announcing the addition of Four's perspective for the third book, so we don't know if the story will repeatedly switch back and forth between the two characters, or if it'll be told in parts, similarly to how Stephenie Meyer divided Breaking Dawn. The last Twilight book was told in three parts, the first and third from Bella's perspective and the second from Jacob's. The pessimistic side of me wonders if adding a second perspective to Allegiant means Tris stands a worse chance of surviving the final book, as her death - should that fate be in the cards for her - and whatever follows could be told from Tobias' perspective, right?
But again, that's probably (hopefully) just me being pessimistic. In actuality, it's not all that surprising that Roth is adding Tobias' perspective to the last book. We know she's splashed around in that character's mind before, having written the Free Four eShort (opens in new tab), which tells the Divergent knife-throwing scene from Four's perspective. And we know she's planning to write four more eShorts from Four's perspective. In fact, when I sat down with Roth at Comic-Con last week, she revealed a couple of interesting things about those anticipated short eBooks:
So it seems we'll be getting to know Four better from his life before he met Tris and then some part of his life after meeting Tris. But given that we now know that he's going to be featured in first-person in Allegiant, it's probably safe to rule out any portion of Allegiant being re-told in those eShorts. But there's always another part of Divergent or Insurgent that could be re-written from Four's perspective. Or we may get something from outside the books, either post-Allegiant or some memory of Four's that wasn't included in Tris' telling of the story in the first two books. As three of the four eShorts are due out after Allegiant, all we can do is speculate and anticipate!
Read our interview with Veronica Roth and Divergent director Neil Burger here.
Assistant Managing Editor
Kelly joined CinemaBlend as a freelance TV news writer in 2006 and went on to serve as the site's TV Editor before moving over to other roles on the site. At present, she's an Assistant Managing Editor who spends much of her time brainstorming and editing feature content on the site.
Your Daily Blend of Entertainment News
Thank you for signing up to CinemaBlend. You will receive a verification email shortly.
There was a problem. Please refresh the page and try again.