Eddie Griffin Divorces Third Wife After Less Than A Year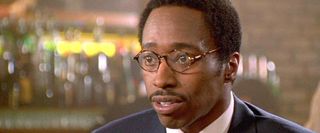 Comedian and character actor Eddie Griffin has had a rather tumultuous love life. At the age of fifteen, he entered a marriage that was over before he was even officially an adult. For years afterward, he opted to avoid the wedding thing, but in the early 2000s the Undercover Brother actor again took a shot at love. That marriage did not last either. However, after having a child with Nia Rivers two years ago, it seems Griffin decided to try one more time.
Griffin married Rivers in a ceremony back in September. The wedding was quick and happened at a chapel in Las Vegas. Still, with a kid involved in the union, it was hardly a Britney Spears one night mistake. Unfortunately, third time was not a charm for the married man. The couple filed for divorce after only one month of marriage, and now, after six months, that divorce has finally been finalized. Eddie Griffin: making Kim Kardashian look good.
To be fair, the couple handled the divorce fairly amicably, with both signing papers stating they will never publicly talk about the marriage and the divorce. According to US Weekly, Griffin is paying out $2,500 a month for child support, as well. With no further proceedings to go through, Griffin's relationships are bound to go under the radar, again. We'll have to wait and see if, in the future, the funnyman will sign another piece of paper binding him to a lady.
Your Daily Blend of Entertainment News