Here's Why You Shouldn't Use Michael Jordan In An Ad Without His Permission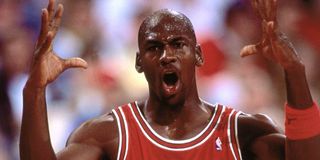 Advertisements left and right use familiar celebrities to help sell their product. But face recognition comes with a price. And depending on the status of the celebrity, that price could be a whole lot of money. Take athletes for example. They make a big chunk of change on endorsements and advertising, and are a seriously hot commodity in those categories. So what happens when you use a name like Michael Jordan without his permission? You know, one of the biggest names in athletics, ever. Well let's just say, you're going to lose a lot of money-- about $8.9 million worth.
According to the Associated Press, just yesterday, a case was closed which awarded Michael Jordan $8.9 million from a supermarket chain that used his name to promote a product in an advertisement, without the athlete's permission. Safeway, owners of now-defunct chain Dominick's knew they did wrong. The advertisement, which was in a commemorative Sports Illustrated issue in 2009 published for Jordan's induction into the Naismith Memorial Basketball Hall of Fame. Lawyers for Safeway came up with the offer of $126,900 for the use of Jordan's name in the advertisement which read, "Michael Jordan … You are a cut above". But, Jordan's lawyers and the basketball star himself testified that the number is far off range in his endorsement history.
The mere name Michael Jordan in an advertisement would cost millions. The NBA legend's legal reps brought in a sports economist who estimated the fair market value for the advertisement Dominick's used would have been $10 million. And while someone at Jordan's stature, certainly is in no lack of financing, he wanted to make a point in court, and that's why they moved forward so adamantly with the case. Jordan said in a statement (via ESPN):
Unfortunately for Safeway, the advertisement wasn't even worth all of this trouble, as only two people were found who actually redeemed the $2 steak coupon. As for Michael Jordan though, this isn't the first time he's had to deal with people using his name without permission. Just three weeks ago the NBA Champion lost a battle with a company in China who paired similar resemblance to his personal logo and name. This certainly won't be the last case the athlete will deal with either.
Your Daily Blend of Entertainment News
Thank you for signing up to CinemaBlend. You will receive a verification email shortly.
There was a problem. Please refresh the page and try again.