Hilary Duff Hid Baby's Umbilical Cord In Her Makeup Drawer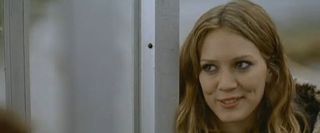 Hilary Duff has spent a lot of time with her 4 week-old son, Luca, tending to his every need and taking the night shift so her hockey player husband can get some good rest and relaxation. This doesn't mean daddy Mike Comrie does not get his share of time with the new addition, it simply means there is a bond between the actress and her baby, one that may involve a harmless secret or two.
Duff's baby is growing super quickly, and because of this Luca hits frequent landmarks in his growth and abilities. The new mom recently spoke with People, about her favorite landmark moment, one that was wholly outside of Luca's control.
As weird as that may seem, I doubt keeping the leftovers from the umbilical cord stub is any stranger than keeping a child's tooth. However, what is a little weirder is what Duff did with the belly button afterward.
I wonder if that was the first place Duff thought of, or the last place she assumed Comrie would look. Maybe a little of both. Give her six years and I bet she starts hiding teeth in the underwear drawer.
Your Daily Blend of Entertainment News
Thank you for signing up to CinemaBlend. You will receive a verification email shortly.
There was a problem. Please refresh the page and try again.