Hugh Jackman Just Brought Back The ALS Ice Bucket Challange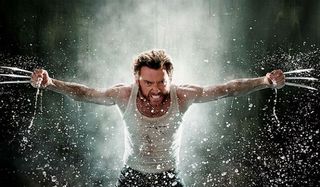 Hugh Jackman is either really late to the game, or just starting a new one. The X-Men actor posted a video to Twitter earlier today participating in an event we became far too familiar with this time last year. Suited up with a dress shirt and black bowtie, Jackman got in the tub, grabbed the bucket, and well...you know the rest. Check it out:
Jackman jokes that he's probably a bit late to the game, but this time around he's promoting a new year for the bucket challenge-- 2015. Along with the hashtags and the Twitter handle for MND Australia, it looks like the actor is trying to get Aussies into the same ice bucket challenge that was so popular last year.
It's not surprising that Jackman has just got onboard. Just last month, founders of the Ice Bucket Challenge, Pete Frates and Pat Quinn launched the campaign for the new year at Fenway Park. In thanking the crowd and participants for their help in last year's campaign, Frates also confirmed that the 'needle was greatly moved in the battle against the disease' and asked fans to join in on another important year.
Though Jackman joked about this new video being a late start, he is one of the earlier celebrities we've seen take part this year. Last year, Jackman took part in the activities, accompanied by the entire cast and crew of Pan. It was one epic video, where Jackman and co-stars call out Tom Cruise and his Mission Impossible team as well as Oscar Isac and the entire Star Wars crew.
But it sounds like Jackman is starting the race from the celebrity bunch this year. He didn't nominate any other celebrities after his bucket dump, but maybe he will send out his nominations at a later point. We can't be sure which celebrity will be next to take on the challenge, but last year's participants ranged from Lady Gaga to Chris Pratt, each with a funny performance building up to the final splash.
Your Daily Blend of Entertainment News
Your Daily Blend of Entertainment News
Thank you for signing up to CinemaBlend. You will receive a verification email shortly.
There was a problem. Please refresh the page and try again.