Jai Courtney: 8 Things You Probably Never Knew About The Aussie Action Star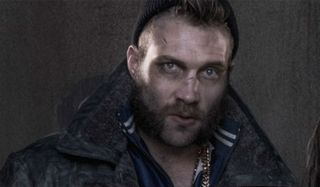 When it comes to action films, Jai Courtney is definitely becoming a more and more recognizable name. The 29-year-old Australian actor has been on an upwards trajectory ever since he impressed American audiences in the hit Starz series, Spartacus: War of the Damned, and as luck would have it, Courtney wasn't just recognized for his rock hard abs. The 29-year-old actor continued to hone his acting skills and started to land bigger and better roles.
Only recently has Jai Courtney popped into the Hollywood film scene and while his resume may be short, it is far from lacking. First working with Tom Cruise in 2012's Jack Reacher, Courtney quickly went on to score the role of Bruce Willis' son in the fifth installment to the Die Hard franchise, A Good Day to Die Hard, followed by the big bad in the YA Divergent series. And only a year later, Courtney stars in Terminator Genisys due out July 1, and will soon play the comic book villain, Captain Boomerang in DC's 2016 Suicide Squad. All this in less than four years. The young actor's name may not be A-list quite yet, but it sure is on the way. So now's your chance to get to know Jai Courtney with 8 facts you probably never knew about the Aussie action star.
He Head-Butted Shailene Woodley On Set of Insurgent
Apparently, Jai Courtney got a little to into his bad-boy persona on set of Insurgent. Courtney who portrayed Eric Coulter had it out with plenty of stars on camera, but most of it does come down to stunt doubles and you know, acting. But, while filming with co-star Shailene Woodley, Courtney accidentally head-butted the actress. And considering their size differences, that must've hurt. Luckily, Woodley is one tough cookie, Courtney told ET:
He Smoked A Joint With Russell Crowe
As a fellow Australian, one of the actors Jai Courtney most looks up to is Russell Crowe. So when the 29-year-old actor first his idol at an industry party, Courtney was more than excited. It was a quick introduction and exchange, and Crowe moved on, but quickly afterwards, their meeting would become even more memorable. Courtney tells Esquire the story about what happened after the initial introduction, which we're sure happened plenty more when the two worked together on Crowe's directorial debut The Water Diviner:
He Had To Lose Weight For His Terminator Role
Jai Courtney is a big guy. He jokes that he has the build of an action star, and it can be quite limiting. But in a recent interview with Elle Magazine, he admitted that his action star build was a bit too buff for his upcoming role in Terminator: Genysis. When asked if he would ever go down the Christian Bale in The Machinist route, Courtney answered:
He Failed His College Ballet Course
Jai Courtney wanted to become an actor from a young age, but it wasn't until he was older that he decided to take it a little more seriously as a career choice. That's when he went to study acting, and in college took a ballet course. Well turns out, Courtney wasn't so graceful on his feet. He told Entertainment Weekly that he failed the course. When asked what the problem was, he told the publication:
Good to know he's still practicing, though.
He Trained In Martial Arts For His Suicide Squad Role
Jai Courtney was already pretty fit for his upcoming role in DC's Suicide Squad, but he had to go through some intense martial arts training to really encompass Captain Boomerang. He told Variety that he had been training for three months in different martial arts, and though he's had his fair share of action roles, this was definitely most intensive. Courtney, who will be portraying an Australian superhero also joked to Access Hollywood that he has been practicing his boomerang skills since he was a young kid. He told the publication that he was surely "wrestling crocodiles and all of the above".
He Can Sing And Play Guitar
As it turns out, Jai Courtney isn't just a talented actor, he's a musician as well. And from the sound of it, he's pretty good too. Courtney has previously noted his passion for the musical arts, and in an interview with Da Man, even claimed that if he wasn't an actor, that would have probably been his career path. He admitted to the magazine:
He Was A Serious Rugby Player
Jai Courtney was quite the athlete growing up, which plays a major part in the actor's athletic build. He has always been very engaged in rugby and the outdoors, and still enjoys watching the National Rugby League, but, he unfortunately has left his rugby days behind him. Now, Courtney sticks to a strict diet, and serious workout regime to maintain his action star bod, but it was some time ago that rugby was his preferred workout. The actor told Men's Fitness that unfortunately, after playing rugby for nearly 10 years, he had to stop:
His Goddaughter Drew Him His Skull Tattoo
If there's one similarity Jai Courtney shares with his Divergent character it's that he has a bunch of tattoos. But there's one in particular that has such an adorable story to it, it's worth the explanation. Courtney told Elle magazine about one tattoo in particular that his goddaughter drew, and she sounds like quite the creative genius.
Your Daily Blend of Entertainment News
Your Daily Blend of Entertainment News
Thank you for signing up to CinemaBlend. You will receive a verification email shortly.
There was a problem. Please refresh the page and try again.