Jennifer Lopez Sued For Too Much Booty After Morocco Concert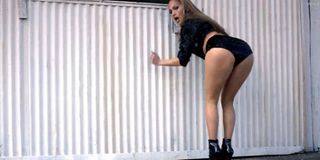 Jennifer Lopez just got hit with a lawsuit because, get this, she shook her booty a little too hard. The performer, known for her risqué performances is being sued by the country of Morocco because apparently they didn't know what they were getting themselves into upon airing her performance on Moroccan television.
The performance in the north African nation was your typical J-Lo show filled with sexy dancing, skimpy outfits and a whole lot of booty shaking. But according to TMZ, Morocco television is not down with this type of content airing nationally, and a lawsuit was filed in response. The lawsuit was apparently filed by an education group claiming Lopez "disturbed public order and tarnished women's honor and respect". Both J-Lo and her promoter are being sued for said accordance and if found guilty the pop star could face 1 month to 2 years in prison. Say what?!
The 45-year-old singer (45?!) is well known for her elaborate performances, and has previously performed in Morocco, so there really is no reason they should have been surprised at the pop star's concert. But, advocates are starting to get very loud about Mustapha Khalfi, the Minister of Communication who booked and allowed the performance to air on public television, and are advocating for his resignation.
According to BBC, J-Lo's performance was in front of over 160,000 people at the Mawazine Festival in Rabat, and was also transmitted on the 2M public TV network for fans. But after the performance local media quickly started to criticize the celebrity for her "suggestive poses" and her apparel. Many prominent members of the ruling Justice and Development Party are calling J-Lo's performance a "breach of public decency". And though Khalfi has rejected calls for his resignation, he apparently spoke on Twitter stating that he planned to contact 2M TV's ethics committee to discuss the issue calling the broadcast "unacceptable and goes against broadcasting law".
J-Lo certainly wasn't the only superstar to perform though. Among her, singer and producer Pharrell Williams had a set, and Usher, Placebo and Maroon 5 are all scheduled to take the stage in the next few days. We'll see if the lawsuit against J-Lo goes any further, but it sounds to be more of an issue between the network and Minister of Communication than it does the singer herself.
Your Daily Blend of Entertainment News
Your Daily Blend of Entertainment News
Thank you for signing up to CinemaBlend. You will receive a verification email shortly.
There was a problem. Please refresh the page and try again.