Justin Bieber Fans Swell To Dangerous Levels In Norway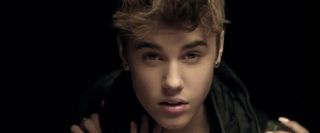 Justin Bieber's 2010 flick Never Say Never emphasized the numerous fans the pop star has and the insanity of some of that fandom. The film also spent a lot of time, purposefully or no, showing how comfortable the 18 year-old is when he is being swarmed by adoring fans suffering from Bieber fever. A couple of years later, that fandom has not let up an iota.
The singer recently embarked on his Believe tour, which is also rolling with the moniker All Around the World, an apt title, since his tour features the teen embarking on several months of performing around the world. Tonight, he is set to perform in Oslo, Norway; however, currently the tens and thousands of fans waiting outside the Oslo Opera House are on the verge of a riot, leaving the police a moment away from shutting the hullabaloo down.
TMZ is reporting the tour is currently being filmed for NBC's upcoming Around the World special, so if things end up getting out of hand before Bieber is scheduled to land in his private helicopter, I'm sure the network will do its best to capitalize on the footage. Until then, we'll have to stick with the expectation Bieber will get to perform, and he is doing his best to calm fans via Twitter.
I said it once, and I'll say it again: the popularity Bieber has achieved is unbelievable, and quite frankly, fascinating to watch. You can see what I mentioned when the newest tour special hits the airwaves on June 21 at 8 p.m. ET.
Your Daily Blend of Entertainment News
Thank you for signing up to CinemaBlend. You will receive a verification email shortly.
There was a problem. Please refresh the page and try again.