Kate Gosselin Alleges Ex-husband Hacked Into Computer In New Lawsuit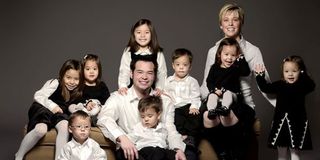 Kate and Jon Gosselin have been divorced for some time now, but the two former reality series personalities are in yet another post-marital spat, and this time the law is involved in their drama. On Monday, it was revealed that Kate Gosselin has filed a lawsuit accusing her ex-husband of stealing information off of her hard drive that was later used to publish a book, all without her authorization.
According to Kate, Jon initially hacked into her computer and phone and passed on personal information to a man named Robert Hoffman, who is a friend of Jon. Hoffman eventually wrote a book about the mom of eight called Kate Gosselin: How She Fooled The World. The tell-all has since been pulled from retailers including Amazon, but Kate is pissed, and she's on a mission to get her revenge via the court system. According to TMZ, Gosselin is suing her former partner for invasion of privacy, identity theft, and much, much more.
The lawsuit shouldn't come as a surprise. Just a couple of days after the eBook was published in 2012, it was pulled from outlets for its scandalous content that included allegations of child abuse. At the time, Hoffman threatened to expose even more horrid and damaging material about Kate to Radar Online, also admitting that he did research using Gosselin's hard drive, which he later put in the trash. According to the website Bullyville, text messages confirm that Jon worked in collusion with Hoffman to steal information from Kate's computer drive.
At the time, Jon remained silent about the actions his friend took against his wife, but Kate's lawsuit seems to make it clear that Jon may have had something to do with how Hoffman obtained the information. If that information was obtained illegally, it could have major ramifications for Jon in court.
The whole saga of Jon and Kate Gosselin in the time after Jon and Kate Plus Eight was cancelled really seemed to die down over the past year. First, Jon came out to state that he was truly sorry for the way things went down toward the end of the couples' marriage. Kate—who is noted for doing whatever she could to stay in the public eye—has also calmed down quite a bit. She recently admitted to having made plenty of mistakes during her reality TV days. She haas also said those days feel like a lifetime ago.
Regardless, with the new lawsuit, it seems like the pettiness between the two individuals might come back. Right now the whole case seems to be a bunch of hearsay, but If there is any merit to the possibility that Jon hacked his former wife, the battle isn't going to be pretty. Hopefully, the couple can work things out without the legal battle being any stickier than it already is. The two may not like one another, but they still have the lives of eight children at stake.
Your Daily Blend of Entertainment News
Reality TV fan with a pinch of Disney fairy dust thrown in. Theme park junkie. If you've created a rom-com I've probably watched it.
Your Daily Blend of Entertainment News
Thank you for signing up to CinemaBlend. You will receive a verification email shortly.
There was a problem. Please refresh the page and try again.