Megan Fox Has Wanted A Kid With Brian Austin Green For A Long Time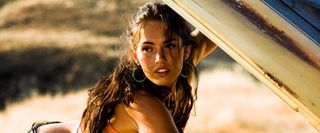 Megan Fox went from being many young men's ultimate sex symbol to a happily married woman when she wed long-term fiancé Brian Austin Green in 2010. Now, the 26-year-old is pregnant and after coming out to the press about the event Friday, news has also broken that she and her 38-year-old husband have wanted a kid of their own for a long time.
Fox's husband, Brian Austin Green has a ten-year-old child from a prior relationship, so Fox has had plenty of time to learn to deal with young children. The actress has said several times in the past she "loves kids" and has wanted her own brood, so despite her relatively young age, the pregnancy is really no surprise. According to a source for US Magazine, Fox has actually wanted a baby of her own for a while.
If someone had told me five years ago the former Transformers star physically wanted a child of her own, I would have screamed trainwreck and kept screaming it until the poor child was brought into the world. Now, despite the actress' mad plastic surgery and different personal philosophy compared to many of us, she seems grounded, happy, and prepared for a baby. Here's to hoping her pregnancy is uneventful and easy.
Your Daily Blend of Entertainment News
Thank you for signing up to CinemaBlend. You will receive a verification email shortly.
There was a problem. Please refresh the page and try again.