Pregnant Women Should Eat More Fish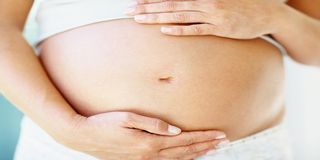 Pregnancy should be a time of great joy and excitement for welcoming your new bundle of joy. I know for my sister, and other women, it was a time of constantly worrying about getting sick or eating the wrong foods that could have horrible side effects on their growing baby. I can remember many visits to sandwich shops where my sister munched on a meatless sub or salad to avoid any complications that can come from deli meats. New research is emerging, however, that flips the script on one popular food most pregnant gals and toddlers skip out on, making it not so scary anymore.
According to Healthline, the CDC is suggesting larger amounts of fish that pregnant ladies and growing children should consume. In the past, fish has been avoided like the plague by those with child. In fact the EPA and FDA had recommended minimum servings of fish, to avoid the potential of mercury having a bad effect on a growing fetus's brain. Now they're realizing that fish provides vitamins and nutrition that can actually help development that offsets any risk.
The organizations recommend that future mommies consume eight to twelve ounces of fish per week. This actually is consistent with what most adults are recommended to chow down on. The FDA analyzed data gathered on more than a thousand women and found that just 21% of them had consumed fish in the past month. Half of the women who said they actually did eat fish ate less than two ounces, which is far less than recommended. The confusion over food safety versus benefits in the past has lead to this lack of seafood consumption.
Not all sea creatures are created equal though. The report has a short list of fish to continue to avoid during pregnancy that have an increased risk of being too high in mercury. The list includes tilefish, shark, swordfish and king mackerel. The good news is that these are fish you probably aren't going to consume on a regular basis anyway, and opens the door to more common options like salmon and shrimp that were avoided in the past. They do caution, however, against pregnant ladies eating too much white tuna and suggest limiting that to less than six ounces per week and just a couple ounces for toddlers. They also warn that fish caught in lakes or streams should only be eaten after consulting local agencies on mercury levels.
At least this is one less thing that pregnant people have to fret over when thinking about the health of their growing baby or toddler. Fish oils are known to contain fatty acids that are great for brain and body, so I'm excited to see them being recommended. It also says a lot about how far research has come in testing the safety of seafood consumption for everyone. While I won't be taking any pregnant friends out for sushi any time soon, it's good to know that there are more options for them to nosh on.
Your Daily Blend of Entertainment News
Thank you for signing up to CinemaBlend. You will receive a verification email shortly.
There was a problem. Please refresh the page and try again.