RealDoll Is Making A Sexy Siri-Like App That Will Eventually Sync With A Sexbot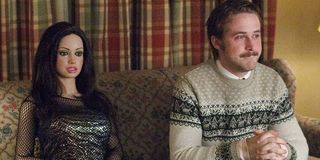 Most people are familiar with the concept of sex dolls. Actually, pretty much anyone who's seen a teen movie in the past 40 years will know the basics of sex doll appearance and workings. But, with technology, comes advances in everything, and sex dolls are no different. Now, it looks like we'll be getting a whole new sex doll experience before too long.
A recent interview with Engadget reveals that Matt McMullen, creator of the RealDoll line of sex dolls, is currently working with AI scientists to create an app that will allow the artificial intelligence to interact with their owners. The app will, eventually, be able to be connected to a robotic "companion" which can be used for pretty much anything, including sex.
The RealDoll company is currently focused on creating the cloud-based artificial intelligence that will run the app, which will work as a stand-alone item. The app would work on any electronics that take apps, be able to communicate with the AI and allow users to create their own version of that AI. Users will be able to talk to the AI on-screen and customize the avatar to their liking. And, because of the focus of RealDoll, Matt McMullen says that the app and accompanying AI will be like "a less PG version of Siri."
The next step in the process, called Realbotix, is to create a fully animated sex doll. Matt McMullen is already working with a small team of engineers, some of whom have worked at Hanson Robotics, a firm that is known for creating amazingly lifelike humanoid robots. His first stage has been to make a robotic head for the dolls that can blink, and open and close its mouth. McMullen's current, customizable and life-size RealDoll products can be bought for between $5,000 and $10,000. The company has been in business for around 20 years.
Whatever you think about the general idea of sex or companion robots, Matt McMullen says his company has no desire to "trick people into thinking they were talking to a real person." He's also hoping to simply make the dolls fun to talk to and interact with. The company is aiming to have the dolls reach "that fine balance between the efficient functionality of it, the entertaining functionality of it, and making the thing work." McMullen is also aware of the "uncanny valley" effect that humanoid robots can have on people, where the robot looks so real that it creeps people out. He's stylizing to be attractive and sexy but not hyper-real so they're easy to relate to.
I know a lot of people are probably already suspicious of this whole process. But, Matt McMullen has clearly stepped into an arena that people are interested in; you don't make sex dolls that cost at least 5K for 20 years and not know your market. Also, he makes a point to note that he doesn't expect that this is something that will ever be for everybody. He knows people need actual human contact, and feels his companions are for simply for those who can't, or won't, engage in real relationships.
So, if RealDoll gets this AI and, later, the Realbotix, on the market, this could be a huge boon for the industry. And, it would take us a bit further than even Her or Lars and the Real Girl imagined.
Yennefer's apprentice, Gilmore Girl; will Vulcan nerve pinch pretty much anyone if prompted with cheese...Yes, even Jamie Fraser.
Your Daily Blend of Entertainment News
Thank you for signing up to CinemaBlend. You will receive a verification email shortly.
There was a problem. Please refresh the page and try again.