Rihanna Thinks Her Butt Has Disappeared, Do You Agree?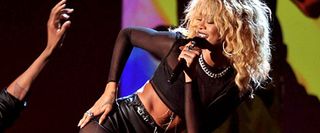 Rihanna's getting a little soft below the waist, or so she says. The 24 year-old singer used to be really proud of her derriere, but now she is not quite on the same wavelength with her feelings about that particular part of her body. Maybe it is simply because Nicki Minaj has stolen her thunder in the nice booty department, or maybe Rihanna's recent diet has simply changed the way her bottom looks, although the singer says she's been eating plenty of late.
Rihanna recently told People her bottom used to be her "favorite body part," but now it has sort of done a vanishing act. With those sort of foods in Rihanna's diet, maybe her troubles aren't that her butt is disappearing, but are more about getting involved with some of those toning exercises instructors love to harp about. Whether or not it has gotten smaller or less firm, Rihanna seems pretty stoked to get on a high horse and do something about it.
Those are a lot of different activities to get involved with that might help her to tone up if she really wants to get invested. On the other hand, I do think the "Umbrella" singer's butt issues are more in her head than anywhere else. While it is true she does lack the junk in the trunk several other popular pop singers rock out with, it is not like Rihanna is lackluster way down south. Maybe she just needs to strut with a little more confidence and she would be a whole lot happier with her look. What do you think? Does Rihanna's ass ultimately need a little work?
This poll is no longer available.
Your Daily Blend of Entertainment News