Serena Williams Shuts Down Annoying Reporter With The Most Perfect Response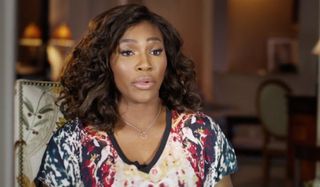 Serena Williams has had her fair share of silly questions thrown at her, we're sure. As a female in professional sports, and as one of the greatest athletes of our time, there are plenty of people trying to catch her off her guard. Not everyone can understand the insane impressiveness of what she does. But the best thing about Serena Williams is she doesn't care one bit about what anyone thinks. She's just playing her game. So when an annoying reporter came at the champion tennis player asking her why she didn't smile after her big win in the US Open quarter-finals. Well, Williams snapped back with the most perfect response from any human, ever.
Serena Williams is currently on her way to potentially winning her 22nd Grand Slam title, a historic event in tennis--meaning the woman is tired. She's training, she's competing, and her last win was against her own sister Venus. So who cares if the Williams isn't smiling? Give her a freaking break. But Williams, being the goofball and all around awesome human being that we want to be BFFs with, gives the perfect response to the annoying reporter who asked her what was wrong since she wasn't smiling. Williams says what we would all be thinking in any similar situation:
We are totally with you Serena. Totally with you. Best of all, Williams continues to demonstrate her annoyance telling the reporters how sick she is of answering any of 'these questions'. Which of course she is. You've been given the opportunity to be in a room with Serena. Freaking. Williams. And what are you going to ask--'why aren't you smiling'? Really. Because she's only on her way to win her fourth US Open in a row, and is about to become the first player since Steffi Graf to collect all four Grand Slam titles in a calendar year. But no, her smiling is far more important.
Williams, as well as most professional athletes are required to speak to reporters after their games. But since Williams is currently on such a historic journey, her press conferences have become increasingly stressful. Reporters continue to remind the athlete of how important and intense this title is, and well, Williams sure knows it. The 33-year-old is clearly exhausted, but she always pulls through, and we'll see how she fares as she continues into the U.S. Open semi-finals.
Your Daily Blend of Entertainment News
Your Daily Blend of Entertainment News
Thank you for signing up to CinemaBlend. You will receive a verification email shortly.
There was a problem. Please refresh the page and try again.