New Study Finds Teens Are Horrible At Guessing Calories In Fast Food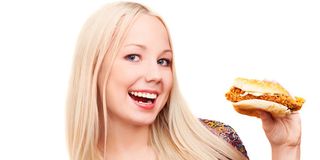 Most people probably realize that eating fast food contains more calories than eating smaller meals. However, a recent study conducted by the Harvard Medical School and Harvard Pilgrim Health Care Institute under lead researcher Jason Block found that many different age groups, and especially teens, totally underestimated the number of calories consumed during fast food meals.
The study looked into 89 different fast food restaurants in four different cities in New England to get their results. The researchers also sampled a variety of different fast food place rather than just burger joints. Participants in the study at ate places like Wendy's, McDonald's, and Burger King, but also at Subway, KFC, and Dunkin' Donuts. Thousands of participants opted in to the study between 2010 and 2011 and the results were somewhat astonishing.
According to UPI, in a statement Mr. Block noted that teens were at the highest risk of underestimating calories when consuming fast food meals.
The study was published in the British Medical Journal, and notes that while teens ordered an average of 756 calories worth of food, on average, they also underestimated those calories by 259. Interestingly, parents of school-aged children who ordered an average of 733 calories also underestimated by 175 calories. There's a reason that fast food companies are forced to make nutritional information available, and even if you are a family who does like to indulge in fast food on occasion, it's good to know what you are getting into. Especially since over 40% of the people studied went to a fast food chain at least once a week.
Photo Credit@ Shutterstock/ Lana K
Amazing Race & Top Chef superfan with a pinch of Disney fairy dust thrown in. If you've created a rom-com I've probably watched it.