Taylor Swift Got Her Music Video Costumes At A Sex Shop, Creepiness Ensued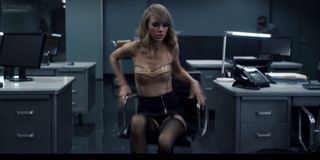 Taylor Swift has an infinite number of fans. Really, it's probably impossible to put an number on it. And recently the pop star released a celebrity-heavy video which featured her and her female entourage in a number of sexed-up outfits that were all purchased from a Los Angeles fetish fashion boutique, The Stockroom. So, it was only a matter of time until some of her fans felt 'inspired' to purchase the same slinky apparel, but it starts to get a bit creepy when most of the orders are coming from the male variety.
Swift normally wouldn't be associated with a sex shop. She's made her name singing teeny-bopper songs about being the cute-yet-dorky girl next door. But this time around, she went with a whole new look and along with a few of her Hollywood friends including Selena Gomez, Hailee Steinfeld, Zendaya, Karlie Kloss, Jessica Alba, Hayley Williams, Ellie Goulding, Lily Aldridge, Cara Delevingne and more the popstar made a music video that looked somewhat like a short female-driven action film. Each woman had their own persona (Swift as Catastrophe) and the video featured a lot of ass-kicking girl power in an epic Sin City-esque battle. Take a look:
Swift and gang put in an order for the loaned clothing of almost $13,000, and after the video shoot was finished, most of it was returned. And of course, that's when the creepy requests started to pour in, as Billboard reports the boutique claiming most of the phone calls were from men, asking to buy the items worn by Swift. The Stockroom has decided not to capitalize on the connection though, and has denied selling or renting items specifically loaned for "Bad Blood" (most likely because they don't want to even think about what people want to use them for).
That doesn't mean the sex shop won't be making some serious dough on orders for other garments. Many can buy their own garments, the same that the singer and crew rocked during the music video. The Stockroom is currently stocking up on the items that were featured preparing for "the wave of sales, hopefully, of these garments coming through."
So sorry creepy dudes who wanted to get a second-hand dose of T. Swift's body odor or what have you. Sounds like they'll just have to stick with the unused versions.
Your Daily Blend of Entertainment News
Your Daily Blend of Entertainment News
Thank you for signing up to CinemaBlend. You will receive a verification email shortly.
There was a problem. Please refresh the page and try again.