Why Selena Gomez Is Fed Up With The Paparazzi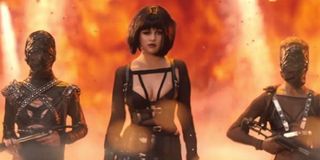 As a child star, sometimes there's no avoiding headlines. And for Selena Gomez, much of her time in the spotlight as of late has been in negativity. Well now, the 23-year-old former actress-turned-pop star is opening up about her disgust with the media, particularly because during their hateful headlines, she was undergoing chemotherapy. Gomez admitted today that her cancelled tour, and time off was because she was diagnosed with lupus.
In an interview with Billboard, Selena Gomez opened up about her new album Revival, and how she is currently taking charge of her life. Within the cover story, the former Wizards of Waverly Place actress revealed why she is fed up with the paparazzi, and is done sitting back and watching them rip her apart. The gossip-mongers took her break from music, and subsequent cancel from her tour completely out of proportion, calling out the actress for addiction. Well Gomez is sick of all the rumors. She told the magazine:
Gomez decided to channel all her frustration and the hate towards her into her music. It made her work harder, particularly because she's just sick of being a tabloid story. She didn't divulge too much information about the status of her disease, but for those of you unfamiliar, there is no known cause for lupus. It is a chronic autoimmune disease where the body's immune system attacks normal tissues and can lead to destruction of many vital organ tissues. It can pretty much effect any system in the body, but the cause is unknown. Chemotherapy is used to suppress the action of the immune system.
Currently Gomez' lupus is in remission, and she told Billboard that the key to staying healthy is "diet, routine and medication" as well as keeping good friends around. She must be referring to the T. Swift Squad, who she also touched upon in her interview, admitting that the crew of females make her "feel empowered, like [she] can trust new people".
Whether Gomez' announcement will put tabloids in their place, we can't be sure. The Spring Breakers actress is rightfully angry and annoyed at the entire situation, but her main concern is to stay healthy, and build her career.
Your Daily Blend of Entertainment News
Thank you for signing up to CinemaBlend. You will receive a verification email shortly.
There was a problem. Please refresh the page and try again.