Guardians Of The Galaxy To Add Zoe Saldana As Gamora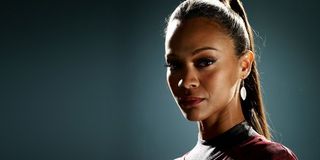 Another key element of Marvel's Guardians of the Galaxy has fallen into place, and it's the addition of an actress who already knows her way around outer space. The Hollywood Reporter says that Zoe Saldana is currently in negotiations to play Gamora, the green-skinned humanoid alien who is the female lead of the upcoming superhero film.
Saldana, who's returning to play Uhura in Star Trek Into Darkness and is on board for the Avatar sequels, would be joining the cast that already includes Chris Pratt as Star-Lord and Dave Bautista as Drax the Destroyer. James Gunn is on board to direct, and the production ought to be gearing up quickly in time to make the planned August 1, 2014 release date.
We got a look at some concept art from Guardians of the Galaxy earlier today thanks to the Marvel Phase One Blu-ray set, but our best look at Gamora remains in the concept art that debuted last summer, showing her on the far right wearing a cape and holding a sword. It will be interesting to see how they have Saldana play the role, whether through motion-capture and prosthetics, and if it winds up looking too similar to her Neytiri in Avatar. It also seems strange that Saldana is potentially signing up for a third sci-fi franchise, not to mention the gigantic Marvel universe that could rope her in for any number of stories. All she needs is a role in J.J. Abrams' Star Wars to be living the true geek dream.
Your Daily Blend of Entertainment News
Staff Writer at CinemaBlend