Zoey 101's Matthew Underwood Arrested In An Underaged Girl's Bed With Weed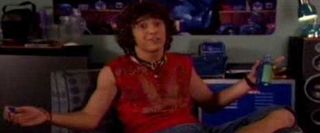 If you've never seen Nickelodeon reruns of Zoey 101 at 9 in the morning on your way to class, you will probably not know who Jamie Lynn Spears' Zoey loves to get annoyed with on that waste of a program. That would be Logan, the spoiled douchebag character on the show played by Matthew Underwood. If you have seen the show, you can chalk the 22 year-old's spoiled onscreen personality to what I am about to mention next.
Underwood was arrested this morning, not totally for drugs or drinking, although I could see why your mind would have roamed there. Instead, the former Nickelodeon star was caught in a 17 year-old girls' bedroom this morning after the Port St. Lucie Police Department in Florida were called to the home. The two were laying around in a room that also featured pot and stuff to smoke it with. The girl was sent to stay with her grandfather and Underwood was promptly taken to jail.
Luckily for the 22 year-old, the two weren't caught in the middle of something skanky, so, according to MSNBC, the former child star was only charged with possession of the drug, drug paraphernalia, and contributing to a minor. Later Friday, the dude was released, but that does not make his situation any less sticky. I can't believe I actually have to state this, but pot or no pot, as an adult, hanging out in the bedroom with a teen of the opposite gender is never the best idea.
Your Daily Blend of Entertainment News