How Did Star Wars' Grogu Survive Order 66? The Mandalorian Answered It With An A+ Guest Star
This was a nice surprise!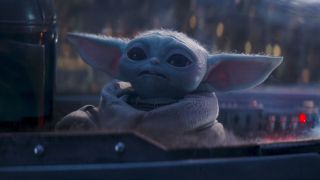 (Image credit: Lucasfilm)
Warning: Major spoilers for the latest episode of The Mandalorian Season 3, "Chapter 20: The Foundling," lie ahead, so read at your own risk.
The Mandalorian Season 3 has officially reached the halfway point and, while its overarching story is still unclear, fans just received more insight into the backstory of a beloved character. It was Grogu's history that was expanded upon in this latest installment, as the show finally revealed how exactly the former Jedi youngling survived the events of Order 66. And in the process, viewers were treated to an A+ guest star that will undoubtedly have a number of Star Wars devotees experiencing all of the feels.
How Did Grogu Survive The Attack On The Jedi Temple?
Season 2 of The Mandalorian revealed that Grogu was a student at the Jedi Temple in Coruscant before the Great Jedi Purge. This week's episode added to that revelation by painting a brutal picture of what went down. In the present, while watching the Armorer forge a new piece of equipment for him, the foundling experienced flashbacks of that fateful day, during which he was protected by a squad of Jedi Knights. Each of the brave warriors risked their lives against swarms of clone troopers to ensure his safety and ultimately managed to escort him to an elevator.
After reaching the upper levels of the temple, the diminutive creature – still in his hovering pram – was greeted by a Jedi Master. Said person fended off additional troopers before taking off with the baby in a stolen speeder. After evading gunships, the Jedi rendezvoused with members of the Naboo Armed Forces, who prepared a ship for him. The two Force-wielders eventually set off to meet up with allies on another planet, while the soldiers fended off additional clones. All in all, this was an exciting sequence, but it was especially sweet because of the aforementioned guest star involved.
A Star Wars Veteran Played The Role Of Grogu's Savior
So in a surprising turn of events, it turns out that the Jedi Master who ultimately escorted Grogu to safety was none other than Kelleran Beq – played by Jar Jar Binks actor Ahmed Best. The Star Wars alum originated the role of Beq on the web series Jedi Temple Challenge – a game show that sees kids competing to complete obstacle courses as Jedi Padawans. Best absolutely nails his part in this recent episode, which was directed by the returning Carl Weathers. He brings a sense of urgency to the part while never forsaking his character's humanity.
Of course, this development is exciting for a number of reasons. The most obvious is that it now firmly cements Kelleran within the Star Wars timeline. However, there's a deeper reason that many, like myself, are sure to appreciate this moment.
This Is An Auspicious Occasion For Ahmed Best Following The Ups And Downs He's Experienced
Ahmed Best has sadly had a mixed relationship with the Star Wars fanbase over the years. When The Phantom Menace was released back in 1999, Jar Jar Binks was widely disliked and much of the backlash was arguably aimed at the actor himself. In the years since, Best has been open about struggling with the blowback, admitting several years ago that the criticism still stings. Sadly, Best even admitted to considering suicide at one point. However, as time has passed, many fans have warmed up to Jar Jar, with Best even returning to voice the character in The Clone Wars and a few other productions before being tapped for Jedi Temple Challenge. The star himself has also received a considerable amount of love from aficionados in recent years.
With all of that in mind, it's nothing short of amazing to see Ahmed Best – who was previously rumored to show up in Obi-Wan Kenobi – on The Mandalorian. The idea of his Kelleran Beq being formally introduced into the canon is cool enough, but the fact that Beq is now a vital part of it is even better. What's more, there may still be more story to tell on that front, as audiences never learned the identity of the "friends" that Beq and Grogu were going to meet up with. Whether EPs Jon Favreau and Dave Filoni choose to follow up on that remains to be seen, but I'm just happy with the new details on Grogru and Best's inclusion.
The Mandalorian drops new episodes on Wednesdays, and they're available to stream using a Disney+ subscription. Keep an eye on the 2023 TV schedule as well as CinemaBlend's list of upcoming Star Wars movies and TV series.
Your Daily Blend of Entertainment News
Covering superheroes, sci-fi, comedy, and almost anything else in film and TV. I eat more pizza than the Teenage Mutant Ninja Turtles.