Did Will Smith Watch Chris Rock's Netflix Special About the Slap? How He Reportedly Feels
Did Will Smith tune in on Chris Rock's Netflix special?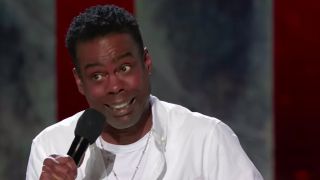 (Image credit: Entertainment Tonight)
Chris Rock made Netflix history with his comedy special, Selective Outrage, to be the streaming network's first livestream global event. And you better believe plenty of subscribers tuned in to see what this comedian had to say about a particular Oscars slap we all remember made the internet explode. If you're wondering if Will Smith was one of those streamers watching Rock's Netflix special, an insider sources report his feelings on it.
Curious minds have been waiting to find out what Chris Rock's take is on getting slapped by Will Smith on the Oscars stage, and the former SNL star told all in his Netflix special Chris Rock: Selective Outrage. That includes material about the slap, Jada Pinkett Smith's "entanglements", and other controversial topics. Regarding if the I Am Legend star tuned in on Rock's comedy special, a source shared ET the actor's reported feelings on the special.
In his special Chris Rock: Selective Outrage, the Oscars presenter/host spoke about how Will Smith was "practicing selective outrage" and that his anger had nothing to do with him. He speculated that Smith's outrage was indirectly related to his wife for her alleged affair with singer August Alsina. Rock also joked that he watches Smith's Apple TV+ subscribed movie Emancipation "just to see him get whooped." The 58-year-old also made sure to say that despite all the brouhaha, he's "not a victim" and feeling that way about himself is "never gonna happen."
The day after the Oscars scandal happened, Will Smith formally apologized to Chris Rock on social media saying his actions were "out of line" and he was "embarrassed" for slapping him. The Best Actor winner also broke his silence with a video apologizing for the Oscars slap incident. This source is claiming that Smith allegedly desires for Rock to move on from this controversial moment.
That same source has also made sure to say what else has allegedly been on Will Smith's mind. Turns out there's someone else that the Fresh Prince of Bel-Air star is also reportedly upset with.
As for Chris Rock, this source said his Netflix special has allegedly helped him move on from the incident knowing he had the platform to say what he wanted to say. Hopefully, these two can achieve peace with each other one of these days.
Your Daily Blend of Entertainment News
Just your average South Floridian cinephile who believes the pen is mightier than the sword.