Chris Rock: Selective Outrage: How To Watch Netflix's First Global Livestream Event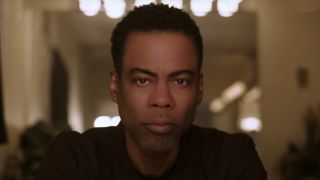 (Image credit: Netflix)
Netflix has long been home to some of the funniest standup specials in the streaming world, but the one thing the platform has never done before is host a live streaming comedy event. Well, that will change on Saturday, March 4th, with the debut of Chris Rock: Selective Outrage, the latest standup special from the legendary comic behind classics like Roll with the New, Bigger & Blacker, and Never Scared, as well as countless movie and TV appearances.
About now, there are surely some of us asking how do we watch Chris Rock: Selective Outrage streaming on Netflix, are there any kind of preshow or aftershow specials, and will the three-time Grammy Award-winning comedian finally address the elephant in the room, a.k.a. Will Smith's slap at the 2022 Oscars? Let's break it down…
When Does Chris Rock: Selective Outrage Premiere?
Anyone with an active Netflix subscription will be able to watch Chris Rock: Selective Outrage when the new live comedy special premieres at 10 p.m. (EST), Saturday, March 4th. If you aren't around to watch Netflix's first global livestream event as it premieres, no need to feel left out, as the show will join the platform's robust library of comedy specials.
Stream Chris Rock: Selective Outrage on Netflix on March 4th. (opens in new tab)
What To Know About The Pre-Show And Post-Show
The fun and excitement doesn't start or stop with the main special, as it will be complemented by two programs that will also be streaming live on Netflix. Variety has announced that a pre-show, titled "The Show Before the Show," will kick off at 9:30 p.m. (EST) on Saturday. This special will be hosted by Ronnie Chieng, and will feature appearances by the likes of Leslie Jones, Deon Cole, Arsenio Hall, Cedric the Entertainer, Jerry Seinfeld, Kevin Hart, and numerous others.
The live standup special will be immediately followed by "The Show After the Show," a post-show wrap-up featuring JB Smoove, Arsenio Hall, and NBA legend and one-time scoring-leader Kareem Abdul-Jabbar.
Will 'The Slap' Be Brought Up During Chris Rock's New Special?
Again, Chris Rock: Selective Outrage will be a live event, meaning, no one outside of the comedian's circle really knows what he will be discussing this weekend. However, an unidentified source told Page Six that Rock will be telling his side of the story during the upcoming standup special. Rock hasn't said all too much about "The Slap Heard 'Round the World" since Will Smith slapped him on stage at the 2022 Academy Awards after the comedian made a joke about Jada Pinkett-Smith while presenting the Oscar for Best Documentary Feature. Expect that to change this weekend.
Are There Other Chris Rock Comedy Specials Streaming on Netflix?
Your night of standup comedy doesn't have to start or stop with Selective Outrage, as you can watch two versions (the standard release and extended cut) of the comedian's 2018 special, Chris Rock: Tamborine right now. But, if you have an HBO Max subscription, you can also watch his classic 1999 special, Chris Rock: Bigger & Blacker, as well.
Stream Chris Rock: Tamborine on Netflix. (opens in new tab)
Stream Chris Rock: The Tamborine Extended Cut on Netflix.
(opens in new tab)Stream Chris Rock: Bigger & Blacker on HBO Max. (opens in new tab)
Well, this should be more than enough to get you all set up to watch Chris Rock: Selective Outrage streaming. Don't forget to check the 2023 TV schedule as there are plenty of new movies and TV shows on Netflix coming out each week.
Your Daily Blend of Entertainment News
Philip grew up in Louisiana (not New Orleans) before moving to St. Louis after graduating from Louisiana State University-Shreveport. When he's not writing about movies or television, Philip can be found being chased by his three kids, telling his dogs to stop yelling at the mailman, or yelling about professional wrestling to his wife. If the stars properly align, he will talk about For Love Of The Game being the best baseball movie of all time.