Nielsen Study Reveals 2022 Was A Huge Year For Native Representation On TV And Streaming, Busting A 'Long-Standing Myth'
TV and streaming see a huge leap in Native American representation.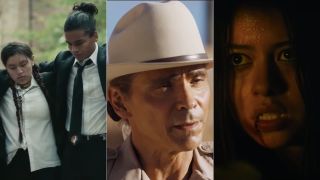 (Image credit: FX on Hulu/AMC/Hulu)
Diversity has become very important when it comes to Hollywood productions, and that includes ones that are produced for TV and streaming services. In just the past year, the public saw Latin representation in Netflix's Wednesday and more as well as great LGBTQ+ representation via Netflix and other companies. And they weren't the only populations to receive the spotlight in various forms of media, either. In fact, a Nielsen study reveals 2022 included great strides for Native portrayals on TV and within streaming, and the stats arguably busted a "long-standing myth" in the process.
There are 6.79 million people who identify as Native Americans in the United States, and they make up 2.08% of the population, according to World Population Review. There are also 574 federally recognized tribes in the country, and members of said nations are gradually getting their time in the sun when it comes to the entertainment industry. Nielsen's Seen on Screen case studies (as reported by Variety) revealed the number of Indigenous lead and recurring roles has increased by 100% from 2021 to 2022, which is impressive.
Yet it must also be noted that only 1% of shows across streaming platforms have an Indigenous lead or recurring character. Crystal Echo Hawk, founder and executive director of IllumiNative, shared a statement the importance of Native American visibility and how it's seen strides in recent years:
It's very true that the demand for Native American representation has grown higher not just from people of this culture but those outside of it too. It means more people have an interest in seeing different kinds of people on screen, with that sometimes coming by way of great characters from Indigenous communities. Interestingly, the study also found that content featuring Native American people attracts new audiences and helps streaming platforms keep their ratings. FX's Reservation Dogs, which you can check out using a Hulu subscription, received 1.4 million new viewers, with 23% staying on the service to watch its other content.
Hulu's Prey opened as the fourth most-streamed movie of its premiere week, and its Native audience contributed to 22 million viewing minutes. Lead actress Amber Midthunder has since spoken about the communities' response to and impact on the film. The Predator prequel also managed to draw in a Hispanic audience that made up 27% of viewership, which lends credibility to the notion that people from various walks of life are tuning in to watch these stories. Additionally, A&E's Dark Winds (which can be streamed using an Amazon Prime Video subscription) hit records that are just as impressive, as those who viewed the show reportedly made up 6% of A&E's total network following its premiere.
These monumental results were shared in the Indigenous House at this year's Sundance Film Festival as an argument for the increasing demand for Native American-centered content. It goes without saying that there's still plenty of progress that can be made on this front, but things seem to be moving in the right direction. At the end of the day, minority groups deserve to have their stories told just as much as anyone else, and one can only hope that those tales will become more commonplace as time goes on.
Your Daily Blend of Entertainment News
Just your average South Floridian cinephile who believes the pen is mightier than the sword.