Rian Johnson's Poker Face: 12 Movies And Shows To Watch If You Like The Peacock Series
It's time to solve a crime with various detectives and crime fighters.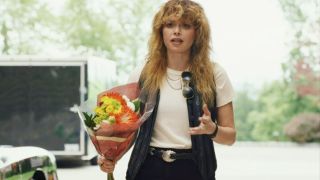 (Image credit: Peacock)
If the Knives Out movies have taught us anything, we can depend on Rian Johnson to give us an entertaining and engaging mystery. Peacock's Poker Face just adds more proof to this theory. It's the kind of must-see television series that I look forward to watching each week.
It follows Charlie (Natasha Lyonne) as she stumbles upon a new mystery weekly, and the show has an old-school mystery-of-the-week vibe but is modernized for the streaming service-loving generation. Its positive reviews and quickly developing fanbase highlight why this is a show to add to your TV queue if you haven't already.
If you have discovered the wonders of the series and Natasha Lyonne's refreshing detective, Charlie, then you may want to watch some similar TV shows and movies, so here are a few to check out if you like Poker Face.
Murder, She Wrote (Peacock)
Angela Lansbury stars in Murder, She Wrote as Jessica Fletcher, a mystery novelist who often finds herself right in the middle of a real major whodunnit. The show ran for 12 seasons, from 1984 to 1996.
Poker Face and Murder, She Wrote overlap in quite a few ways. They both involve the main character constantly finding themselves with a mystery to solve, and both Jessica and Charlie are extremely skilled at solving crimes but neither are professional detectives. In another lifetime, the two would hit it off and work together to find the culprits. Rian Johnson clearly loves this classic. It's obvious with the Glass Onion: A Knives Out Mystery cameo and how Poker Face takes inspiration from Jessica and her crime-solving expertise.
Stream Murder, She Wrote on Peacock. (opens in new tab)
Columbo (Tubi)
Columbo is an NBC and ABC crime drama that aired for 10 seasons. It starred Peter Falk as the title character, a homicide detective who often uses his intuition and street smarts to solve crimes. He's not the typical buttoned-up cop.
In many ways, Poker Face feels like this show's offspring . Charlie feels like Columbo's reincarnation. They have a similar demeanor and attitude that makes them outsiders in the world of law enforcement. Additionally, they can read people like a well-written book, enthusiastically and with precision. Johnson's series also borrows the classic's episodic pattern, as each starts by showing who committed the crimes and why. Then we watch as our lead figures it all out.
Veronica Mars (Hulu)
Veronica Mars is a CW show that ran for three seasons. It then came back several years later when a Kickstarter helped revive the franchise with a movie. Then the series returned again in 2019 for Season 4 on Hulu.
Some of the best Veronica Mars episodes involve the titular teen solving crimes by using her skills of observation and people-reading. Charlie also has these skills. Both characters also aren't typical TV detectives. Poker Face fans may enjoy the older show because they both involve strong heroines solving crimes as experts in their fields who don't do it for the glory, but for a need to discover the truth.
Stream Veronica Mars on Hulu. (opens in new tab)
Buy Veronica Mars on Amazon. (opens in new tab)
The Knives Out Movies (Netflix/Amazon)
Knives Out and Glass Onion: A Knives Out Mystery both revolve around Benoit Blanc (Daniel Craig) trying to expose a murderer who also happens to be wealthy. These films fall into the eat-the-rich movie mystery genre. Both the Knives Out cast and the Glass Onion cast include many A-list stars like Chris Evans, Kate Hudson, Jamie Lee Curtis, and Kathryn Hahn.
Obviously, the Knives Out films and Poker Face are both created by Johnson, so they have that in common. They also both show a vast appreciation and admiration for the mystery genre. This makes them sort of tributes to the power of a good mystery story.
Rent/buy Knives Out on Amazon. (opens in new tab)
Stream Glass Onion: A Knives Out Mystery on Netflix. (opens in new tab)
Only Murders In The Building (Hulu)
Steve Martin, Martin Short, and Selena Gomez play an unlikely trio in Only Murders in the Building. This Hulu original series follows Charles (Steve Martin), Oliver (Martin Short), and Mabel (Selena Gomez) as they find a body in their building and then must work together to solve the mystery and try to clear their names. They also start a podcast along the way.
It's one of Hulu's best original TV shows because it introduces an engaging mystery each season. It also works because of the cast's chemistry and the hilarious writing. Poker Face also introduces an engaging mystery each week. You may know who did it from the start but you want to see how it all comes together.
Natasha Lyonne is also really good at creating chemistry with her scene partners. When Charlie's new friends are either murdered or the murderers, you feel that betrayal or hurt because these characters' chemistry matters.
Stream Only Murders In The Building on Hulu. (opens in new tab)
Clue (Amazon Prime Video)
Remember that classic board game that you play with your family every holiday season? Well did you know it's a movie? Of course you did, because it's also a classic. Clue is a 1985 dark comedy that stars Eileen Brennan, Tim Curry, Madeline Kahn, Christopher Lloyd, Michael McKean, Martin Mull, Lesley Ann Warren, and Colleen Camp. Six strangers arrive at a mansion and the seventh guest is suddenly murdered.
They must work together to bring down the murderer or at least try not to be the next victim. Clue and Poker Face share their dark comedy tone. Overall, the Peacock series is a comedy, but it blurs those lines when dealing with some of the more serious cases, while the classic is also generally a fun whodunit. If you enjoy the entertaining nature of the crimes on Poker Face, then you'll love this movie.
Stream Clue on Paramount+. (opens in new tab)
Rent/Buy Clue on Amazon. (opens in new tab)
iZombie (Netflix)
iZombie follows Liv Moore (Rose McIver), a woman who is bitten by a zombie at a boat party. She then gets a job at a morgue to resolve her brain cravings by eating the brains of the deceased. There is only one big problem: she absorbs their personalities and memories.
She uses this new power to solve crimes, especially murder cases. Poker Face and iZombie are both unconventional mystery shows, as Charlie isn't the typical crime solver and neither is Liv. They both use their gifts — and curses — to solve crimes. The environments also play a major factor in each episode. Liv mentally becomes whoever she eats, and Charlie adapts to the environments she enters during each episode.
Stream iZombie on Netflix. (opens in new tab)
Buy iZombie on Amazon. (opens in new tab)
Russian Doll (Netflix)
Russian Doll is a Netflix original TV show that follows Nadia (Natasha Lyonne), a woman who enters a time loop on her 36th birthday. She tries to figure out how to escape it.
Though Nadia and Charlie are not the same characters, they're both played by Lyonne so they have similarities. If Poker Face is your introduction to her, then Russian Doll is a good place to start for other great Natasha Lyonne projects. It showcases her ability to create a complex character who is not perfect, but trying not to be terrible. The overlapping mystery elements on both series also make them good companion shows to watch. You can get a double dose of her trying to solve mysteries.
Stream Russian Doll on Netflix. (opens in new tab)
The Nice Guys (Netflix)
Russell Crowe and Ryan Gosling play Jackson and Holland respectively in The Nice Guys. Holland works as a private investigator and Jackson works as an enforcer. They end up working on the same case and decide to team up to solve the mystery.
In another cinematic universe, Jackson, Holland, and Charlie all work together, because they have a similar style. Yes, some time-traveling would need to happen, but it could work. All these characters have messy lives and methods of handling their cases. However, each of them is actually really good at their jobs, even if everything else in their lives is a mess. Charlie's fans will also enjoy getting to know Holland and Jackson.
Stream The Nice Guys on Netflix. (opens in new tab)
Rent/buy The Nice Guys on Amazon. (opens in new tab)
See How They Run (HBO Max)
Inspector Stoppard (Sam Rockwell) is assigned to solve the murder of film director Leo Köpernick (Adrien Brody). Inexperienced WPC Stalker (Saoirse Ronan) tags along to help and gain experience. Agatha Christie's play The Mousetrap happens to be at the center of this crime and the film.
Though this isn't a direct adaptation of a Christie story, it's clearly influenced by her work. This makes sense, because she is the queen of a good mystery story. Both Poker Face and See How They Run use and spin some of the classic mystery stories to create tributes and homages to this genre. They also both do this with a comedic tone.
Stream See How They Run on HBO Max. (opens in new tab)
Rent/buy See How They Run on Amazon. (opens in new tab)
Perry Mason (Freevee Via Amazon)
The original Perry Mason TV show ran from 1957 to 1966, for nine seasons. It stars Raymond Burr as the title character, a defense attorney who often gets involved in solving crimes to help his clients. This often leads to him finding the real criminal and freeing his clients.
The tone here is more dramatic than on Poker Face, but they are both about passionate characters who really want to get to the truth. Generally, Mason does it to help his clients, and he has a need to know the truth behind each case. Though Charlie may have different motives for solving her cases each week, they all stem from a desire to find out what really happened.
Stream Perry Mason on Freevee (opens in new tab).
A Simple Favor (Amazon)
A Simple Favor follows vlogger and single mom Stephanie (Anna Kendrick) who tries to solve the mystery of her friend, Emily's (Blake Lively) disappearance.
If there is a genre of main characters who are kind of a hot mess, both Stephanie and Charlie belong in that category, though I would argue that the latter seems a lot more emotionally stable than the former. They are also both amateur crime solvers, but Charlie is a lot better at it and does it because it's more of a calling.
A Simple Favor and Poker Face are also both simply really fun entries into the mystery genre.
Poker Face is one of Peacock's best TV shows, so as you anxiously await the next episode or season, make sure to check out some movies and TV shows on this list.
Stream A Simple Favor on Amazon. (opens in new tab)
Stream Poker Face on Peacock. (opens in new tab)
Your Daily Blend of Entertainment News
Spent most of my life in various parts of Illinois, including attending college in Evanston. I have been a life long lover of pop culture, especially television, turned that passion into writing about all things entertainment related. When I'm not writing about pop culture, I can be found channeling Gordon Ramsay by kicking people out the kitchen.