The Best Gift Ideas For Beatles Fans
Come together and check out these Beatles gifts!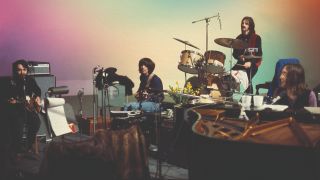 (Image credit: Disney)
The Beatles haven't released an album or even been an active band for more than 50 years now, but Beatlemania seems to be more alive than ever with movies inspired by the iconic rock outfit as well as Peter Jackson's landmark Disney+ streaming docuseries The Beatles: Get Back.
That being said, there's a good chance there is a massive fan of the "Fab Four" in your life, someone who would be more than a little appreciative if just one of the best Beatles gifts listed below ended up in a stocking or under your tree this holiday season. Please believe me, there's a lot to choose from on this long and winding road of merchandise…
The Beatles: Get Back Collector's Edition Blu-Ray
In November 2021, Peter Jackson's three-night streaming event The Beatles: Get Back made its long-awaited debut and welcomed longtime fans of the band into one of the group's most tense and creative periods: the 1969 sessions that would eventually lead to not one, but two iconic albums: Let It Be and Abbey Road. The eye-opening experience, which included hours of restored footage and audio, made audiences feel like a fly on the wall as the "Fab Four" workshopped what would be some of their most well-known songs.
Released in 2022, The Beatles: Get Back collector's edition Blu-ray includes each episode of the three-part event on a separate disc along with printed pictures of each member of the band. There aren't any special features, but this is perfect for fans of the band who don't have a Disney+ subscription.
Buy The Beatles: Get Back Collector's Edition Blu-Ray at The Beatles' Official Store.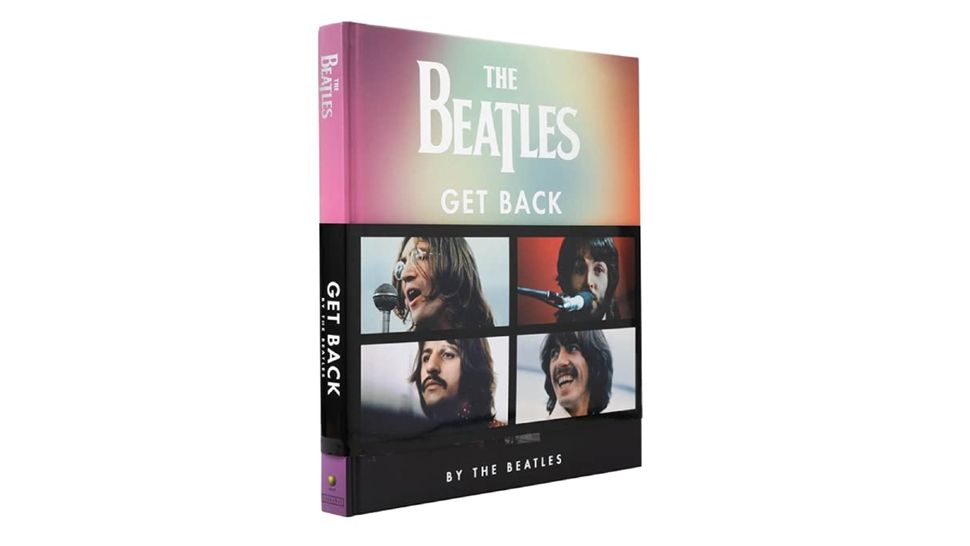 The Beatles: Get Back Hardcover Book
In addition to being turned into a three-night streaming event on Disney+ and physical release, The Beatles: Get Back has also received a printed counterpart that dives into the creation of the group's final studio album Let It Be. This 240-page hardcover book, published by Callaway Arts and Entertainment, comes loaded with hundreds of never-before-seen photographs, writings, and other notes from the 21-day recording session that resulted in some of the most consequential songs of all time. This book is perfect for anyone who wants a nice companion piece for the groundbreaking Peter Jackson film.
Buy The Beatles: Get Back Hardcover Book on Amazon.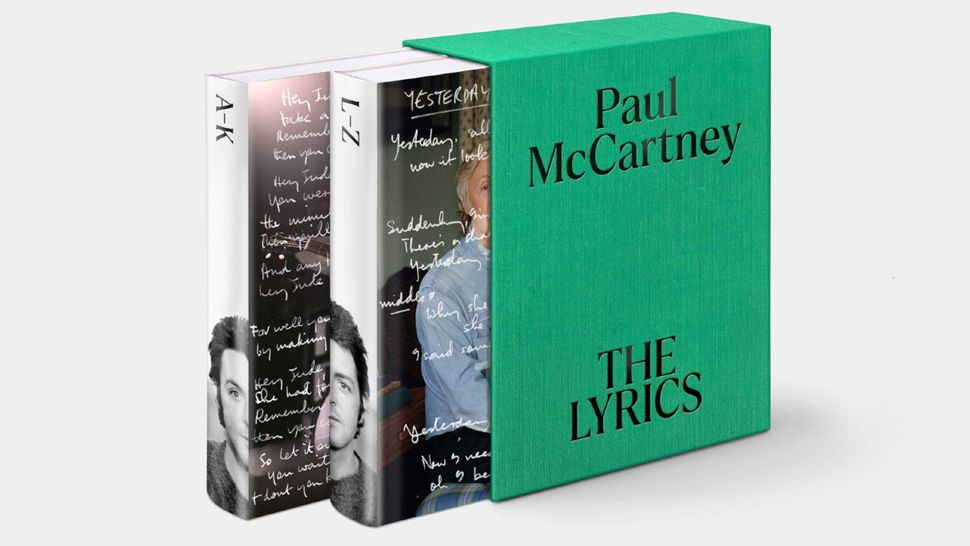 The Lyrics: 1956 To Present
One of the most anticipated celebrity books of 2021, Paul McCartney's The Lyrics: 1956 to Present breaks down 154 of the Rock and Roll Hall of Famer's most iconic tracks from his days as a teenager all the way to his highly-successful solo career. Included in this two-volume set are commentaries from the man himself that provide a detailed look at his thought process as well as the life experiences that inspired some of the most important songs of all time. The set is available in a Kindle version and hardcover.
Buy Paul McCartney — The Lyrics: 1956 to Present on Amazon.
The Beatles Revolver: Special Edition Vinyl Box Set
Often considered one of the best additions to The Beatles' catalog and one of the most transformative albums of all time, 1966's Revolver marked a turning point for the band as it was the final release before they retired from live performances. More than 55 years after its initial release, the beloved album got a major facelift in the form of Revolver: Special Edition, which includes a new mixing, outtakes, and alternate versions on four 12-inch LPs and one 7-inch EP, and a collection of bonus material exclusive to the release.
The vinyl box set is perfect for die-hard fans of the band, but it does come with a hefty price (just under $200). Fear not, as there is also a CD version available that features all the same material printed onto 5 discs.
Buy The Beatles Revolver: Special Edition Vinyl Box Set on Amazon.
Buy The Beatles Revolver: Special Edition CD Box Set on Amazon.
The Beatles Revolver Framed Poster
Not only was Revolver a major transitional point for The Beatles' music, it also marked the beginning of more expressive and unique artwork for the band. The band's official online store, in honor of the new special editions of the classic album, has released new prints of art from the album's release as well as images inspired by it.
This is best seen in the framed poster that is currently available in the webstore that features the four members of the band in an expressive style of art that looks very similar to that of the original album cover. This would go nicely in a home office or den where you and the die-hard Beatles fan in your life likes to enjoy winding down and listening to music.
Buy The Beatles Revolver Framed Poster at The Beatles' Official Store.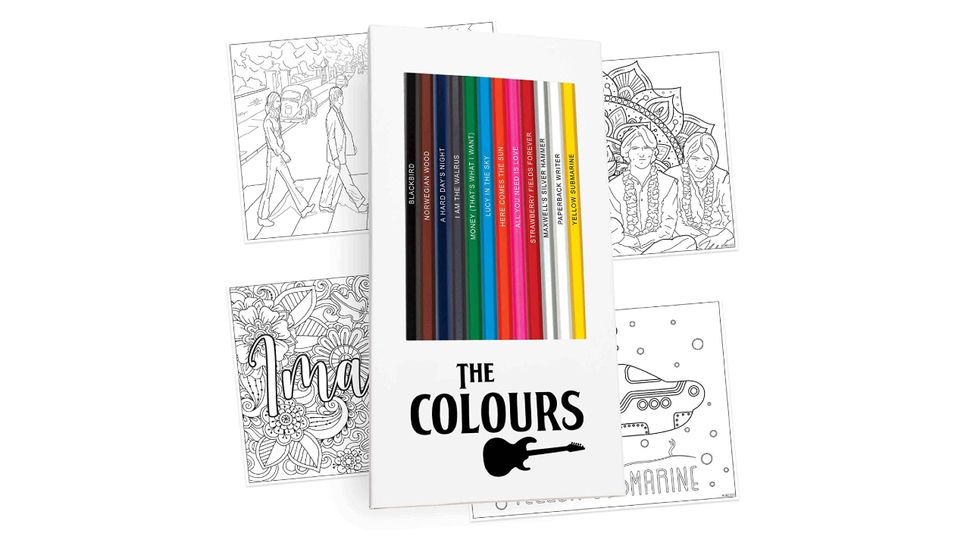 A Set Of Beatles Colored Pencils And Coloring Pages
The Beatles had some of the most iconic album covers of all time, and now you can recreate that famous art and other images inspired by the influential band with this set of Beatles-themed colored pencils and coloring pages. Each of the 12 pencils included in the set are named after a different song like "Yellow Submarine," "Black Bird," and "Maxwell's Silver Hammer."
Buy a Set of Beatles Colored Pencils and Coloring Pages on Amazon.
The Beatles Album Cover Flip Book
If you're looking for a gift that is small but packs quite a punch for that Beatles fan in your life, look no further than this flipbook from Fliptomania. This 125-page cover-to-cover flipbook takes some of the band's most iconic album covers — Help, Rubber Soul, Sgt. Pepper's Lonely Hearts Club Band, etc. — to life in a stunning display.
With high-quality images, the book creates a flashy and smooth presentation that looks like the animations featured in the band's music videos and specials like the 1995 documentary, Beatles: Anthology.
Buy The Beatles Album Cover Flip Book on Amazon.
The Beatles Black & White Photo Shirt
There are a lot of great Beatles shirts out there, but there are also a lot of bad shirts that should be avoided like the plague. This black & white photo shirt featuring the band as they recorded Revolver falls into the former camp, and is timeless.
In addition to pictures of each member recording the band's landmark 11th studio album, the black T-shirt also includes the Revolver tracklist in simple, easy-to-read text. It's not flashy, but this simple and strikingly beautiful band shirt is worth grabbing.
Buy The Beatles Black & White Photo Shirt at the Beatles' Official Store.
The Beatles Trivial Pursuit
If you're looking for a gift for that Beatles fan in your life who thinks they know everything about the band, pick up this special version of Trivial Pursuit. With 600 questions related to the band, its members, albums, and obscure songs, this will keep everyone busy for hours this holiday season.
Even better, The Beatles Trivial Pursuit includes a carrying case, making it the perfect game to bring to your holiday and New Year's Eve parties.
Buy The Beatles Trivial Pursuit on Amazon.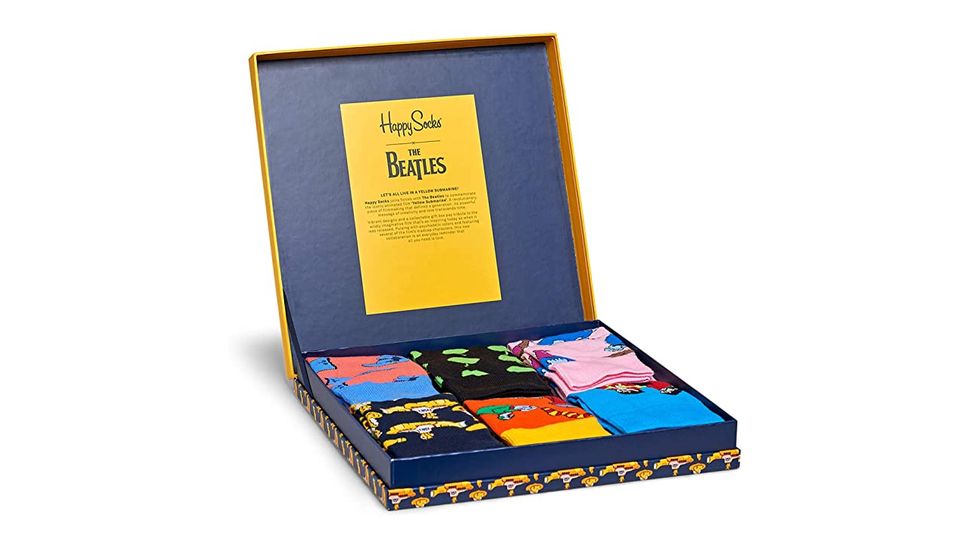 A Six-Pack Of Beatles Socks Featuring Iconic Yellow Submarine Art
There are few people who would admit that Yellow Submarine is their favorite Beatles album, but there is no denying the impact of the art that accompanied it (which was also featured in the animated film of the same name). And with highly-detailed and colorful socks being all the rage, this collection will make the perfect (and most practical) gift this holiday season. Each of the six socks included in this collector's box is inspired by different aspects of the trippy album and fantasy musical first released more than a half-century ago.
Buy a Six-Pack of Beatles Socks on Amazon.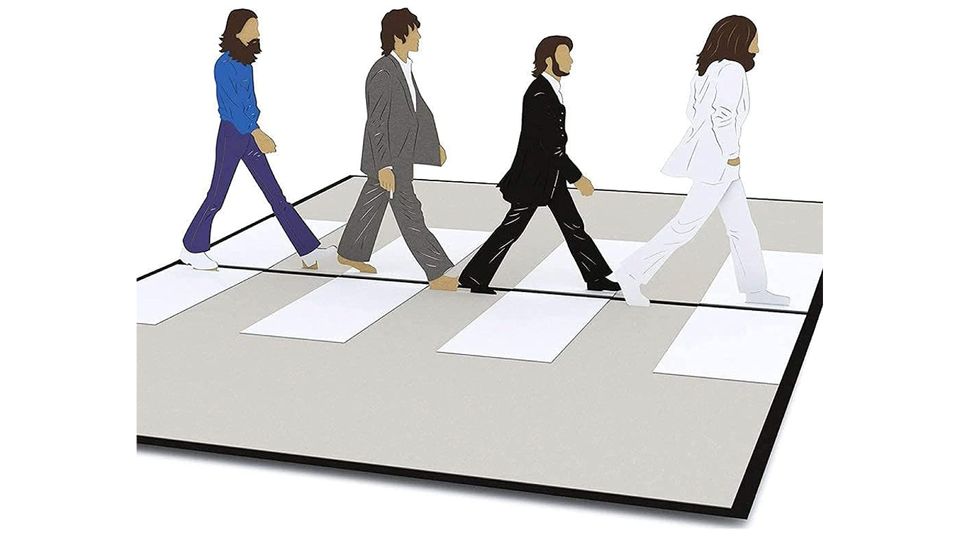 The Beatles Pop Up Greeting Card
Greeting cards are a necessary evil in our lives, but why not have some fun with it by purchasing one of these Beatles pop up cards that come in a variety of designs. If you end up getting someone a gift card or cold hard cash this holiday season, put it in the middle of one of the snazzy cards which feature artwork from some of The Beatles' most popular albums including Abbey Road, Help, and Sgt. Pepper's Lonely Hearts Club Band. Plus, they make great desk art as well.
Buy a Beatles Pop Up Greeting Card on Amazon.
Hopefully this helps you come together this holiday season and share some joy with Beatles fans of all ages.
To see the great Black Friday deals for movies, TV and other entertainment products, click the banner below:
Your Daily Blend of Entertainment News
Philip grew up in Louisiana (not New Orleans) before moving to St. Louis after graduating from Louisiana State University-Shreveport. When he's not writing about movies or television, Philip can be found being chased by his three kids, telling his dogs to stop barking at the mailman, or yelling about professional wrestling to his wife. If the stars properly align, he will talk about For Love Of The Game being the best baseball movie of all time.