Priyanka Chopra Jonas, Stanley Tucci And 13 Other Celebrities With Books Coming Out In 2021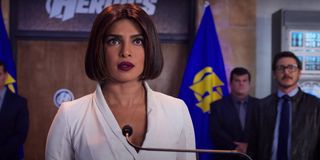 CinemaBlend participates in affiliate programs with various companies. We may earn a commission when you click on or make purchases via links.
We didn't get to see too many of our favorite actors, musicians, and even wrestlers in 2020 due to everything going on in the world, but the likes of Priyanka Chopra Jonas, Stanley Tucci, John Cena (and more) weren't just sitting around twiddling their thumbs. In fact, all three of those celebrities and others like them filled up their vacant calendars by writing books. Everything from memoirs to works of fiction and even in-depth examinations of the lyrics of a former Beatle were crafted in recent months.
To save everyone time and energy, we've put together a breakdown of just 15 books written by celebrities that are due to be published throughout 2021 (and some that have already been released to bookstores around the globe). There's a lot to get into here, so let's get started, shall we…
Ethan Hawke - A Bright Ray Of Darkness
When people hear the name Ethan Hawke they probably think back to his roles in films like Training Day, Dead Poets Society, or the Before trilogy, but the Academy Award nominee is also somewhat of an accomplished writer. Hawke's third novel, A Bright Ray of Darkness, which sounds like it takes inspiration from the actor's own life, centers on a young man preparing for his big professional breakthrough with his Broadway debut just as his failing marriage implodes. Exploring themes like love, art, and fame, Hawke's third novel was published February 2, 2021.
A Bright Ray of Darkness is available now. Order it on Amazon.
Priyanka Chopra Jonas - Unfinished: A Memoir
We will soon be seeing a lot of Priyanka Chopra Jonas when she appears in The White Tiger and The Matrix 4 later in 2021, but the Indian actress and wife of the youngest Jonas brother has already gotten off to a tremendous start to the year with the release of her first book, Unfinished: A Memoir. Published February 9, 2021, the revealing memoir serves as a platform for one of the most recognizable faces in show business to share her life story and the complexities of her life. With sections dedicated to her upbringing, decades-spanning acting career, and humanitarian efforts, Unfinished offers a never-before-seen look at the actress' incredible story.
Unfinished is available now. Order it on Amazon.
Chip Gaines - No, Pain, No Gaines: The Good Stuff Doesn't Come Easy
It is hard to stroll through any given store (both physical and digital), watch TV, or browse the internet without seeing Chip and Joanna Gaines in one shape or another, and it will soon get even harder. In addition to working on the launch of the Magnolia Network, Chip Gaines is also preparing to launch his latest book, No Pain, No Gaines: The Good Stuff Doesn't Come Easy. The upcoming memoir/self-help book will guide readers through Gaines' journey to launching a successful brand with his wife while also talking about what matters most in life: family and goals.
No, Pain, No Gaines is due out March 16, 2021. Pre-order it on Amazon.
Sharon Stone - The Beauty Of Living Twice
Golden Globe-winning actress Sharon Stone (Casino) has been a part of the Hollywood story for more than 40 years, giving scene-stealing performances in everything from Basic Instinct to The Disaster Artist. Now, Stone will tell her own story in her upcoming memoir The Beauty of Living Twice, in which she details her journey of healing, love, and purpose on and off sound-stages around the world. This honest and at times humorous recounting of Stone's life can't be missed.
The Beauty of Living Twice is due out March 30, 2021. Pre-order it on Amazon.
John Cena - Be A Work In Progress: And Other Things I'd Like To Tell My Younger Self
In 2021 we'll see John Cena (or will we?) make his Fast & Furious debut in F9, show up in The Suicide Squad (and an HBO Max series of his own), and all other sorts of madness. And while we are waiting for all of the wrestler-turned-actor's upcoming movies and shows, we can read his non-fiction book Be A Work In Progress: And Other Things I'd Like to Tell My Younger Self. This heartfelt and hopeful collection of thoughts, wisdom, and stories (not to mention illustrations by Valeria Petrone) sounds like it will be a lot like Cena's Twitter feed, which is actually being turned into a book of its own: Do Your Best Every Day To Do You Best Every Day.
Be A Work In Progress and Do Your Best Every Day To Do You Best Every Day is due out April 6, 2021. Pre-order both on Amazon here and here.
Brandi Carlile - Broken Horses: A Memoir
Singer-songwriter Brandi Carlile has continued to be one of the most prolific and successful musicians of her time with a decorated solo career as well as a few major collaborations with music's brightest stars. The story of how Carlile got to this point in her career with her five Grammys and shelves of other awards is told in great detail in her upcoming book Broken Horses: A Memoir. From growing up as an openly gay teenager in Seattle to sharing the stage with the late John Prine, it's all on display here.
Broken Horses is due out April 6, 2021. Pre-order it on Amazon.
Julianna Margulies - Sunshine Girl: An Unexpected Life
For years, Julianna Margulies has been a fixture of television with celebrated performances first on the medical drama ER and then the legal drama The Good Wife, but now we'll get to a different side of the three-time Primetime Emmy winner's book Sunshine Girl: An Unexpected Life. This upcoming memoir will explore not only Margulies' time on the two award-winning shows but also her personal coming-of-age story before she found success on our television screens week after week for decades.
Sunshine Girl: An Unexpected Life is due out May 4, 2021. Pre-order it on Amazon.
Andrew McCarthy - Brat: An '80s Story
Andrew McCarthy, who initially found success as a member of the "Brat Pack" with appearances in quintessential '80s movies like St. Elmo's Fire, Pretty in Pink, and Less than Zero, has gone on to have success both in front and behind the camera over the years. And although the latter part of McCarthy's career (especially all the shows he's directed) would be perfect for a book, Brat instead focuses on his first taste of success and the hardships that came from it during the the 1980s.
Brat: An '80s Story is due out May 11, 2021. Pre-order it on Amazon.
Seth Rogen - Yearbook
Since breaking out with his performance on Freaks and Geeks, Seth Rogen has become one of the most consistently funny, witty, and charming threats in Hollywood with everything from Superbad to An American Pickle under his belt. In May 2021, Rogen's fans will get to step into the mind of the man behind the madness with Yearbook, a collection of stories about his upbringing, early attempts at stand-up, and how he became one of the funniest names in show business.
Yearbook is due out May 11, 2021. Pre-order it on Amazon.
Kevin Hart - Marcus Makes A Movie
Kevin Hart has spent the better part of the past decade dominating at the box office (and on Netflix with his stand-up specials) and so it was only a matter of time before the comedian-turned-actor wrote his own children's book. Marcus Makes a Movie follows a young boy who dreams of making a superhero spectacle after getting stuck in an after-school film class. What Marcus has in ideas (and a hero) he lacks in skill or basic knowledge of filmmaking, causing chaos to ensue.
Marcus Makes a Movie is due out June 1, 2021. Pre-order it on Amazon.
Richard Marx - Stories To Tell: A Memoir
Richard Marx is responsible for more than a dozen of the biggest songs of all time with classics like "Endless Summer Nights," "Right Here Waiting," and "Now & Forever," and now the prolific singer-songwriter will share the stories behind those songs and his success in Stories to Tell: a Memoir. This decades-spanning recounting of some of the Grammy winner's biggest moments (both highs and lows) and continued success years after the fact will shed light on what has inspired the acclaimed musician all these years.
Stories To Tell: A Memoir is due out July 6, 2021. Pre-order it on Amazon.
Evanna Lynch - Untitled Memoir
Evanna Lynch, who played Luna Lovegood in the final four Harry Potter movies and later became an outspoken activist will soon be sharing her story in a yet-to-be-titled memoir set for release this September. This coming-of-age story will follow the Lynch from her days as a young aspiring actress to superstardom in Harry Potter and the Order of the Phoenix, documenting the struggles she faced along the way. Touching on her recovery from anorexia and how she would go on to portray her favorite character from J.K. Rowling's series of books, Lynch provides a touching and inspiring story about growing up.
Evanna Lynch's untitled memoir is due out September 14, 2021. Pre-order it on Amazon.
Trisha Yearwood - Trisha's Kitchen: Easy Comfort Food For Friends And Family
Country music icon (hello Con Air) and daytime cooking show host Trisha Yearwood is no stranger when it comes to cooking up hits in the kitchen, and she'll soon share with the world even more of her delicious creations in Trisha's Kitchen: Easy Comfort Food for Friends and Family. Packed with 125 unique recipes (plus photos and fun anecdotes), this cookbook will do to your taste buds what her music has been doing to your ears for decades.
Trisha's Kitchen is due out September 28, 2021. Pre-order it on Amazon.
Stanley Tucci - Taste: My Life Through Food
Stanley Tucci has appeared in several food-based movies over the years and even has his own culinary travel show on CNN with Stanley Tucci: Searching for Italy, and so it should come as no surprise that he has several cookbooks under his belt. In October, the accomplished actor will add yet another book to the list with Taste: My Life Through Food. This decades-spanning memoir will explore Tucci's love of all things food and how that passion impacted roles in The Big Night and Julie & Julia.
Taste: My Life Through Food is due out October 12, 2021. Pre-order it on Amazon.
Paul McCartney - The Lyrics: 1956 to the Present
There are accomplished musicians and then there are the likes of Paul McCartney, the former Beatle who has continued to find success in just about everything he sets his eyes on for well over a half-century now. This November, the music icon will release a massive collection of his lyrics titled The Lyrics: 1956 to the Present, which includes notes, stories, and other details about dozens of history's best songs.
The Lyrics: 1956 to the Present is due out November 2, 2021. Pre-order it on Amazon.
And not to be outdone, several celebrities released books in the final weeks of 2020 that are more than deserving of a quick shoutout before end things here. For starters there is Steve Martin's A Wealth of Pigeons: A Cartoon Collection and then Kathie Lee Gifford's inspiring memoir It's Never Too Late: Make the Next Act of Your Life the Best Act of Your Life, which can be found here and here.
Philip grew up in Louisiana (not New Orleans) before moving to St. Louis after graduating from Louisiana State University-Shreveport. When he's not writing about movies or television, Philip can be found being chased by his three kids, telling his dogs to stop yelling at the mailman, or yelling about professional wrestling to his wife. If the stars properly align, he will talk about For Love Of The Game being the best baseball movie of all time.
Your Daily Blend of Entertainment News
Thank you for signing up to CinemaBlend. You will receive a verification email shortly.
There was a problem. Please refresh the page and try again.