The Power TV Show: What We Know About The Prime Video Adaptation
Toni Collette is in it. That's basically enough to make it a must-watch.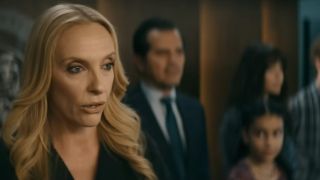 (Image credit: Amazon Studios)
The Power is one of Prime Video's exciting upcoming shows. Amazon Prime Video hasn't had as many original new shows as Netflix and Hulu but it's taking the quality over quantity route. Some of Amazon Prime Video's best original shows include Upload, The Boys, Invincible, and Good Omens. Clearly, the streaming service knows how to make compelling TV. The Power may add to their lineup of quality shows.
The Power is a sci-fi show that explores what happens when girls are given a specific kind of power. It's an intriguing concept that could once again give Amazon Prime a must-watch show.
Before committing to The Power, let's explore what we already know about this upcoming Prime Video TV series.
What Is The Premiere Date For The Power?
The Power will be available to watch on Prime Video starting March 31. It's one of the shows starting the Spring 2023 TV schedule.
Amazon Prime Video has a pretty exciting March 2023 premiere lineup with Daisy Jones and The Six also premiering in March. Other exciting TV shows returning or premiering on various platforms in March include You Season 4 Part 2, Yellowjackets Season 2, True Lies, Sky High: The Series, Succession Season 4, and Shadow and Bone Season 2.
There Are Ten Episodes In Season 1
According to Deadline, The Power Season 1 has ten episodes. It's unclear whether these will be hour-long episodes, but because this is a drama, they may be anywhere from 40 minutes to over 60-minute episodes.
Episodes Will Be Released Weekly
The Power will stream every Friday from March 31 to May 12. According to Rotten Tomatoes, the first four episodes premiere on March 31, and then one episode a week until the finale.
Amazon often uses the weekly format when releasing shows and it seems to work. The Boys and Invincible are just two Prime Video shows — of many — that really thrive with the weekly format. They build buzz and a fan base as the shows continue to air and take over social media.
The Power Takes Place In An Alternate Timeline Where Every Teen Girl Develops Powers
The Power is based on the book of the same name by Naomi Alderman. The book is a New York Times bestseller and was dubbed in 2017 as one of the New York Times Book Review's best books of the year.
The book is described as a dystopian novel. It follows a world where teenage girls develop the power to electrocute people. It follows many different characters and tells various stories all across the globe including Seattle, London, Nigeria, and Moldova.
The Trailer Shows Girls Causing A Revolution With Their Powers
The trailer for The Power shows the start of these teen girls' developing powers. There is a bit of initial panic. However, it transforms into the girls embracing these powers and what they bring: control, fearlessness, and freedom.
The short trailer shows some of the main characters, including Margot and her family.
Toni Collette Stars In The Power
Toni Collette stars In The Power. She plays Margot Clearly-Lopez, the mayor of Seattle. She's a progressive candidate with a "sharp tongue," according to Deadline. Her family is one of the most important things to her. The introduction of powers into this world really shakes up her professional and personal life.
Toni Collette's most recent television role on The Staircase earned her a 2022 Emmy Award nomination. Therefore, we can probably expect her to compel us again on The Power. Toni Collette has also appeared in the TV shows Pieces of Her, Unbelievable, and United States of Tara. Her film work includes roles in Muriel's Wedding, Emma, The Sixth Sense, Little Miss Sunshine, and Hereditary, which is one of her best movies.
The Large Ensemble Cast Also Includes John Leguizamo And Auli'i Cravalho
The cast of The Power includes many actors, such as John Leguizamo and Auli'i Cravalho. Leguizamo plays Rob, Margot's husband of 20 years. Auli'i Cravalho plays Jos, their daughter.
John Leguizamo has been in the film and television industry since the '80s, so he has decades of well-known roles and appearances. Some of his best-known films and TV shows include Super Mario Bros., To Wong Foo, Thanks for Everything! Julie Newmar, Romeo + Juliet, and. Moulin Rouge!.
He's also appeared in the best Ice-Age movies, John Wick, Freak, The Brothers Garcia, When They See Us, and one of CinemaBlend's favorite movies of 2022, The Menu.
Auli'i Cravalho is best known for voicing Moana in Moana. She has also appeared in The Little Mermaid Live!, All Together Now, Darby and the Dead, and Crush. She will play Janis in the film adaptation of Mean Girls The Musical.
The main cast includes:
Toheeb Jimoh as Tunde Ojo
Josh Charles as Daniel Dandon
Eddie Marsan as Bernie Monke
Ria Zmitrowicz as Roxy Monke
Zrinka Cvitešić as Tatiana Moskalev
Halle Bush as Allie Montgomery
Some of the recurring actors include Heather Agyepong, Izzy Cleary-Lopez (per Deadline), Rob Delaney and more.
A Jessica Jones Executive Producer Is The Showrunner
In 2022, it was announced that Raelle Tucker would act as showrunner of The Power. She will also produce it. The producers also include author Naomi Alderman, Jane Featherstone and Naomi de Pear for Sister Pictures, Reed Morano, Claire Wilson, Tim Bricknell, and Sarah Quintrell.
Raelle Tucker previously worked as a producer on True Blood, The Returned, Jessica Jones, and Sacred Lies.
A Deadline article stated that The Power featured an all-female writers' room. Every episode was also directed by a woman. Ugla Hauksdóttir was announced to direct two episodes and Shannon Murphy to also direct two episodes.
Ugla Hauksdóttir has directed episodes of Snowfall, Hanna, and Trapped. Shannon Murphy has directed episodes of Killing Eve, Rake, and the movie Babyteeth. IMDB also lists Lisa Gunning, Neasa Hardiman, and Logan Kibens as other The Power directors.
Covid Caused Major Filming Delays And Cast Changes
Like with many other projects set to start in early 2020, The Power experienced many production delays due to Covid. In 2020, Rainn Wilson signed on to play the role of Daniel Dandon. Dandon is a Governor of Washington State and a major issue for Margot (via Variety). He was supposed to be a series regular and star opposite Leslie Mann, who originally had the role of Margot. She joined the cast in 2019.
Deadline reported Rainn Wilson's exit and Tim Robbins joining the cast in January 2021. However, by May 2022, according to Deadline, both Leslie Mann and Tim Robbins left the project due to scheduling issues. Rainn also reportedly had to leave The Power cast because of scheduling conflicts.
Both Leslie Mann and Tim Robbins had already started filming when they had to exit the project. All their scenes were expected to be reshot. When Robbins joined the cast in the role of Daniel it went from a series regular role to a recurring role. Josh Charles, who took over the role, will remain a recurring character.
Tune into The Power on Amazon Prime Video on March 31.
Your Daily Blend of Entertainment News
Spent most of my life in various parts of Illinois, including attending college in Evanston. I have been a life long lover of pop culture, especially television, turned that passion into writing about all things entertainment related. When I'm not writing about pop culture, I can be found channeling Gordon Ramsay by kicking people out the kitchen.