The 100 Season Finale Trailer, Details, Speculation And William Shatner Tweets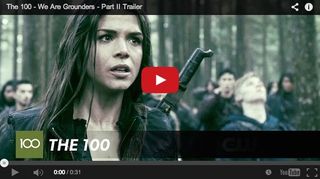 After vetoing his stay-and-fight plan, Clarke seems a bit more supportive of Bellamy in the preview for "We Are Grounders - Part II," the season finale of The 100. And from the video above, it looks like fighting is inevitable, even in the run-and-live strategy that Clarke and Bellamy's people took at the end of last night's episode. And um, if it's not already clear, spoilers ahead if you aren't caught up on The 100 through "We Are Grounders - Part II"! (And if you're just here to see the William Shatner tweets, scroll down to the bottom of the page.)
We have a couple of things to discuss but first, let's look at the official episode description for the final episode of Season 1 of The 100...
Should we assume that whatever "difficult decision" Octavia has to make has to do with Lincoln? And are Raven and Jasper going to be making more explosives?
Finally, what's Finn's bold move? My first thought was that it might have to do with Clarke, but then I considered that there's more to worry about here than her shutting him down last night. But, I do think that's really relevant. Finn told Clarke he was in love with her. She responded with "You broke my heart" and what sounded like the start of a conversation that was probably leading somewhere toward "I don't know how I feel" or "Not right now" or something. But they didn't get to hash it out because they had to get back to the camp. So my thinking is, Finn might feel a mix of guilt and rejection over Clarke's response. Guilt for breaking her heart and maybe not straight-up rejection in the sense that he thinks she doesn't want him, but more in the sense that he thinks he lost his chance with her because of bad timing and how things went with Raven. Either way, what this comes around to is that Finn may feel like he has something to prove, which could mean making a "bold move" to be a hero, at least partially to redeem himself in Clarke's eyes, even if it means risking his own life. That's just speculation though.
Speaking of speculation. Remember yesterday, before last night's episode, when I suggested that maybe the ark was going to pull a Battlestar Galactica move and enter the planet's atmosphere? Well, it looks like I was on the right track! The ark's going to be its own exodus ship! And it sounds like it will break apart when it does, which would presumably mean people getting separated and possibly some ships not making it. Hopefully all of the main ark characters -- including Gaeta (real character name is Sinclair) -- make it through the ordeal alive, but if they land on earth in different places, that could make for some interesting build-up next season as they try to find each other. We'll have to wait and see how that plays out though. The preview doesn't give us any idea of what's going on with the ark.
Finally, let's all give William Shatner a round of applause. The Star Trek star's been live-Tweeting random episodes of CW shows lately, and last night he chose The 100. Here's one of the Tweets he posted during last night's episode:
The 100's season finale airs next Wednesday (June 11) at 9:00 p.m. ET on CW. More great Shatner tweets after the jump!
Your Daily Blend of Entertainment News
Thank you for signing up to CinemaBlend. You will receive a verification email shortly.
There was a problem. Please refresh the page and try again.