13 New TV Shows That Definitely Aren't Getting Cancelled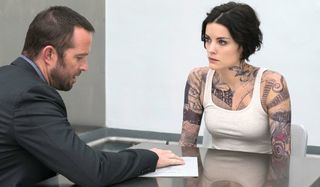 TV premiere season is always an exciting time for fans of the small screen because new shows are hitting networks large and small. There's always a wide variety, ranging from medical dramas to comedies to sci fi adventures. Most of us can find at least a show or two worth getting into. As far too many of us know, however, there's an element of danger in getting invested in brand new shows. The future is almost never 100% certain when it comes to television, and it's heartbreaking to fall in love with a series only to have in cancelled just as it's getting really good. Luckily, some networks have been kind enough to already give renewal orders to some of the freshman series. Check out our list of 13 new TV shows that you definitely don't have to worry about getting cancelled; they're already renewed for Season 2!
Chicago Med
Chicago Med had a recipe for success that made a renewal as much of a sure thing as is generally possible for network television. When it premiered in October of 2015, it was the third show in Dick Wolf's Chicago franchise (which already included Chicago P.D. and Chicago Fire). Prior to the renewal announcement, Chicago Med was averaging 11.3 million viewers per episode in 7 Day ratings for NBC. The premise follows the adventures of an ensemble of doctors and nurses in the emergency unit of a Chicago hospital. Med both fills a gap left by past Chicago-based medical juggernaut ER and expands the Chicago universe even further. Chicago Med airs on Tuesdays at 9 p.m. ET on NBC.
Scream Queens
Scream Queens is a show that almost doesn't sound like it should work on network television, but Fox found a viral hit with the Ryan Murphy series that combined a "whodunit" murder mystery with a darkly humorous take on the horror genre. The show had a killer ensemble that included Emma Roberts, Glee alum Lea Michele, and legendary scream queen Jamie Lee Curtis. The show wasn't exactly smashing ratings records, but it created such social media buzz that it became the top show among young adults and earned a renewal for Season 2. The first season of Scream Queens ended its run of 13 episodes in December of 2015.
Quantico
Quantico has had something of an unexpected journey over its first season so far. It premiered in a competitive Sunday night timeslot, and its ratings were solid but not exceptional. What has been exceptional about Quantico's numbers is that the DVR figures of the first half of the season bumped up viewership by an average of 1.5 million people. The show went on a long hiatus between its midseason finale in December and its midseason premiere in March, but ABC evidently found enough of a hit in FBI trainee Alex Parrish's exploits in flashbacks and flashforwards to order Season 2. Quantico airs on Sundays at 10 p.m. ET on ABC.
Crazy Ex-Girlfriend
Crazy Ex-Girlfriend is one of the most surprising renewals given by any of the networks. From almost the very beginning, the show was lucky to bring in more than 1 million viewers. Even for The CW, those numbers are pretty low to warrant another season, and odds were against a second go. Things began to look up when star Rachel Bloom won the Golden Globe for Best Actress in a Musical or Comedy in 2015, and The CW has seen fit to give Crazy Ex-Girlfriend another shot. Crazy Ex-Girlfriend airs on Mondays at 8 p.m. ET on The CW.
Zoo
Adaptations of books have found plenty of success on the small screen, but CBS' Zoo pulling off the plot of James Patterson's novel of the same name seemed unlikely. Animals acting crazy is much easier to do on page than on a television budget. Nevertheless, CBS reported that Zoo was the most-watched scripted summer series of 2015, so bringing the series back for a second go this summer makes sense and is wonderful news for the people who have already been hooked. Zoo premieres its second season on Tuesday, June 28 at 9 p.m. ET on CBS.
Blindspot
Blindspot on NBC was a breakout hit during the Fall of 2015, scoring 10.5 million people who tuned in to watch live. Like Quantico, Blindspot has a huge DVR presence, and it was averaging 12.7 million viewers overall as well as an enviable 3.7 demographic rating when it was officially renewed for its second season. Unless Blindspot starts to flop sooner rather than later, star Jaimie Alexander may have a long future of waking up early to get full-body tattoos plastered on her by the makeup department while playing the mysterious Jane Doe. Blindspot airs on Mondays at 10 p.m. ET on NBC.
Into The Badlands
Another show that defeated the odds to score a second season is AMC's Into the Badlands. Despite the constant plugging for the series during commercials for the massively popular Walking Dead, Into the Badlands saw its ratings drop from a premiere 6.3 million viewers all the way down to about 2.5 million by the fourth episode in Season 1. Still, it's enough of a genre show – featuring an assassin, an adventurous teen, a swordswoman, and a feudal setting – that a core audience is likely to stick around once established. Interestingly, AMC waited more than two months after the Season 1 finale to give the official order for ten episodes of Season 2. Into the Badlands ended its first season on December 20, 2015.
The Expanse
Syfy has had trouble getting any space-oriented TV shows off of the ground for the last several years, but all that changed when the cabler introduced The Expanse. The show has brought in alright ratings, with fewer than a million viewers each week. Still, the network does fine with on smaller numbers and The Expanse has been well-liked by fans of science fiction. It's no real surprise Syfy decided Season 2 was worth it. Unfortunately, fans of the freshman drama will have to wait until 2017 to catch new episodes. It's hard work making a TV series set in space!
Full Frontal With Samantha Bee
Former Daily Show correspondent Samantha Bee left Comedy Central to headline her own talk show on TBS. Full Frontal With Samantha Bee has been a hilarious showcase for a comedienne who only got a few minutes per episode on The Daily Show. TBS renewed Full Frontal after only two months on the air for an additional 26 episodes, bringing the count up to 39 and carrying the show all the way to the end of the year. Full Frontal With Samantha Bee premiered on February 28 and airs on Mondays at 10:30 p.m. ET on TBS.
Humans
Humans is an AMC series that is not a spinoff, does not feature zombies, and does not feature swordplay on a regular basis, so it's not exactly the series that most people associate with the network. That said, Humans brought in respectable numbers for a cable summer series, averaging about 2 million viewers per week. The show is distinctly sci fi with its premise based on artificial helpers usurping the roles of human characters in a future reality. Instead of going to predictable route and turning the series into a constant Battlestar Galactica-esque battle between man and robot, Humans is a more subtle look at what could happen to a society incorporating artificial intelligence with everyday mundanity. Humans ended its first season in August of 2015.
Colony
Colony put USA on the post-apocalyptic drama map in a big way when it introduced a family struggling to stick together and survive a conflict between the Collaborators and the Resistance after the occupation of the planet by an alien force. The show brought in an average of 3.4 million live viewers early on, which was enough to warrant a renewal after only three episodes. With post-apocalyptic veterans Sarah Wayne Callies and Josh Holloway in starring roles, the cast has been solid enough to sell some of the crazier sci fi elements so far. The first season of Colony came to a conclusion on March 2016.
Baskets
It may have actually been impossible for Baskets on FX to be a failure. The series was co-created by comedians Zach Galifianakis and Louis C.K. Galifianakis stars as Chip Baskets, whose dream of becoming a renowned professional clown are foiled by financial troubles to max hilarity. The series premiere actually broke ratings records for FX with 1.75 million viewers. Ratings remained impressive over the next few episodes, and FX gave the renewal order after only five installments. Chip Baskets will be back yet again to pursue his dream in early 2017. Baskets ended its first season on FX in March of 2016.
Legends Of Tomorrow
The CW may be the underdog network on the small screen, but it has paved the way for superhero series by establishing a small empire of DC shows. Legends of Tomorrow was bound to have at least some degree of success thanks to the built-in audiences from parent shows Arrow and The Flash, and the series premiere brought in the highest numbers for The CW in its timeslot in years. The mishmash of heroes and villains from Arrow, Flash, and DC Comics lore has meant that viewers never know what they're going to get from a given episode. A second season means that the superhero universe can keep expanding on The CW in new and unexpected ways. Legends of Tomorrow airs at 8 p.m. ET on The CW. For a look at the returning shows that have also received renewal orders so far, check out our list of what series are coming back for more. If you're not excited yet about what's coming soon, be sure to look at our list of summer premiere dates.
This poll is no longer available.
Laura turned a lifelong love of television into a valid reason to write and think about TV on a daily basis. She's not a doctor, lawyer, or detective, but watches a lot of them in primetime. Resident of One Chicago, the galaxy far, far away, and Northeast Ohio. Will not time travel, but will sneak references to The X-Files into daily conversation.
Your Daily Blend of Entertainment News
Thank you for signing up to CinemaBlend. You will receive a verification email shortly.
There was a problem. Please refresh the page and try again.