The Best TV Shows On Netflix Right Now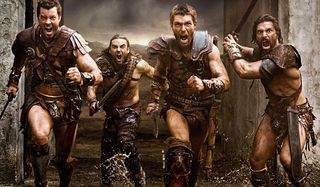 As Netflix has started to produce larger amounts of original programming, the number of TV shows and movies available on the service is certainly dwindling. However, the subscription streaming service still offers a slew of TV shows that have gotten good reviews and have avid audiences. A lot of these are shows that have already ended, but live on through streaming services like Netflix, services which breathe new life into the shows every day.
In fact, the list of originals is so great and so lengthy that I had to type painfully as I rid this list of modern classics like Mad Men, intense police dramas like Wallander and incredibly popular shows, including Prison Break (which is being rebooted by Fox) and Futurama (which has seen more revivals than the average show). Not everyone's taste in television is exactly the same, of course, but we've watched a lot of oldies and newbies and put together the list of the top 20 best TV shows on Netflix right now.
We'll be keeping this list updated as time goes on, but if you are looking for more specific lists, here's our take on great horror available on Netflix, as well as family-friendly shows on Netflix. You can also check out the 10 greatest Netflix original shows, here.
Spartacus
Most premium cable TV shows are not available on Netflix, but the former Starz series Spartacus is available in full. It fits really well into Netflix's lineup, as it includes some of the nudity language and even violence that Netflix has emulated with some of its other originals. The Steven S. DeKnight series---you know, the guy in charge of the first season of Daredevil---about gladiators rising up against their Roman masters is a must-watch.
Breaking Bad
Breaking Bad is a recent enough phenomenon that a lot of the AMC drama's audience caught the show during its initial run on the cable network. Let's not forget, though, that Breaking Bad grew so popular initially thanks to its availability on streaming services. The Bryan Cranston-led drama is still one of the best offerings out there. Even if you have seen it, maybe you are due for a re-watch? Yeah, bitch!
Cheers
Cheers is probably best known all these years later for launching a ton of careers and one really, really critically acclaimed spinoff, but the show itself is actually really funny and has a great heart to it. After all, there's a reason it still has the third most watched-finale in the history of television. Not bad for a show about drinking and working at a bar.
Lost
Lost was a complex drama about a group of people who were stranded after a plane crash. It's not a series you could have watched casually during its initial run, and the Carlton Cuse drama is not one you would want to put on in the background while doing other tasks now. The series, albeit divisive on occasion, was brilliant in its best moments. More importantly, once you get sucked in, Lost has a must-watch factor that other shows (see: The Blacklist) are trying to emulate years later.
Sherlock
Sherlock, the modern-day reimagining of the hit Sir Arthur Conan Doyle novels, doesn't produce a ton of episodes. In fact, sometimes years go by before new episodes are produced. But the drama has developed a rabid and devoted following perhaps due to this haphazard way of releasing new content. Each episode also runs ninety minutes and all three series are available on Netflix, giving streamers plenty to chew on. Sherlock's tight storylines and excellent cast, which includes Benedict Cumberbatch and Martin Freeman, makes it a great Netflix selection. Add in the fact that Season 4 is set to air soon-ish and there are plenty of reasons to watch.
Parenthood
I'll be the first to state that Parenthood is not a show for everyone. The former NBC drama features enough family issues and poor decision-making from its lead characters to last a lifetime---and we're just talking about what happens in any given episode. But the Jason Katims drama tackles interracial relationships, sexuality, dating after 40, cancer, illness, autism, cheating scandals, pregnancies and more in ways that feel vivid and satisfying. Just a year after it ended, it's still a shining example of what network TV can offer when it couples a spitfire cast with intelligent, thoughtful writing. Give it a watch, but keep the Kleenexes nearby.
Firefly
Netflix offers a slew of sci fi shows for nearly every taste. (A favorite of mine includes Farscape.) However, Firefly should make this list not only because it's a great show that launched the careers of the likes of Alan Tudyk and Morena Baccarin, plus made Nathan Fillion a household name. Sure, Firefly only lasted for one season on Fox, but the show is iconic at this point. It's done what few shows have: lived on in cultural consciousness for many years after its original run. Give it a watch on Netflix, now.
The Twilight Zone
Speaking of sci fi classics, this list wouldn't be complete without a nod at The Twilight Zone, the anthology series created and hosted by the late Rod Serling. More than 100 episodes of the classic series are currently streaming on Netflix, although not every episode of the show that was ever produced is currently available. It's a great show to not have to watch in chronological order, too.
Friends
Here at CinemaBlend, we know there are a lot of split opinions on Friends. Some see the iconic comedy as a warm, fuzzy reflection of comedy in the nineties and still can't stop laughing every time Joey puts a copy of Little Women in the freezer. Other people think "Smelly Cat" should go back where it came from. One thing's for certain: Friends is an incredibly easy-to-watch series and a crowd pleaser when you can't decide what to watch. It's also a big deal that the entire series is available for streaming. Go ahead, watch "The One In Massapequa," now.
Dexter
Another of the rare subscription cable dramas available on Netflix, Dexter gave us 8 seasons of death an carefully orchestrated mayhem before wrapping up on Showtime. The show may now be remembered for the way it chose to end, but the drama was also responsible for bringing to life one of the most exciting TV characters in Michael C. Hall's Dexter Morgan. It's also responsible for some of the most harrowing moments on TV, with the Season 4 finale being a major standout. We expect this series to hold up for a long time, and Netflix is lucky to have it.
The Office
The Office may have gone in a different direction after Michael Scott's departure, but the show as a whole is an early example of what a single camera comedy could accomplish. It's different than the British version with the same title, but nonetheless manages to exemplify an entire era of NBC comedy and be an incredible show. We'd say Dunder Mifflin has been missed, but you can relive all of its glory days via every single episode of The Office, which is available to stream on Netflix.
Buffy The Vampire Slayer
Like a fine wine, Joss Whedon's hit supernatural drama Buffy The Vampire slayer has only gotten better as it has aged. Mostly this is because Whedon's characters are so vivid, imaginative and strong and not because the budget was anything to exclaim over when this show first hit the schedule in the nineties. As Joss Whedon continues to make a name for himself, Buffy The Vampire Slayer ekes ever closer to becoming a classic, and you can relive its best moments or binge all 7 seasons on Netflix now.
The Flash
It's difficult to compare a show that is as lighthearted and sometimes campy as The Flash to Marvel's darker fodder, but of all the DC Comics shows on The CW, The Flash is probably the best example of the genre and the one with the biggest following. Even better, Netflix recently re-upped its deal with channel to continue offering new episodes of The Flash, and fans will begin getting finished seasons much sooner than in past years. More info here.
It's Always Sunny In Philadelphia
Rude, obscene and hilarious, It's Always Sunny In Philadelphia never pulls any of its punches. It takes aim at seemingly every hot button issue in society and more often than not, finds new territory to mine. It's not for everyone, but those who get the unique pacing and difficult characters often become fans for life. Right now, the first 10 seasons of the FXX comedy can be found on the streaming service, and hopefully eleven will be available soon.
Weeds
Jenji Kohan is a big Netflix name thanks to her long-running hit Orange is the New Black, but it's Weeds that really has made a lasting impression on audiences. While Weeds did end up suffering from Showtime's penchant for keeping programs on the air past their prime, the first few seasons of Weeds feature some of the most interesting TV moments from the new millennium and forever proved why the prolific showrunner should be on the map. Plus, it's worthy it to watch Nancy Botwin get into wild shenanigans. Watch all eight seasons on Netflix.
Close but no cigar: Parks and Recreation, Futurama, Prison Break, The Andy Griffith Show, Gilmore Girls, The 100, Mad Men, Freaks and Geeks, Black Mirror, The IT Crowd, My Name is Earl, The Walking Dead