Why The Donald Trump Apprentice Tapes Won't Be Released, According To Mark Burnett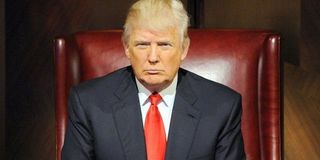 It's a known fact that Donald Trump said some unsavory things while filming a segment for Access Hollywood nearly a decade ago, but whether or not he was equally inappropriate while on Celebrity Apprentice is still up for debate. Some people involved with the show have spoken out about how Donald Trump was disparaging during his time with NBC, and others have asked producer Mark Burnett to produce evidence. Now, the producer has politely declined, for myriad reasons. Here's the official statement Burnett released this week:
The statement, released to Variety, does several things. First, it explains in pretty succinct language why Mark Burnett will not be releasing any Apprentice or Celebrity Apprentice footage of Donald Trump, whether positive or controversial. MGM is in charge of the decision, and even if the company could, they wouldn't, because the company also has contracts and doesn't want to get into lawsuits. The statement also says that anyone related to the show that was telling outlets like Buzzfeed that Mark Burnett was going to sue them if they leaked content was in fact lying. It suppose it's possible that MGM might sue anyone who breached their contract, but that's not Mark Burnett. Mark Burnett's just the face of such projects as Shark Tank and Celebrity Apprentice.
Finally, Mark Burnett has not come out in support of Donald Trump and instead says he supports Democratic campaigns.
Accusations have been rampant that Donald Trump made comments about women, their bodies and even their makeup during his time on the NBC drama. The Huffington Post even managed to dig through some transcripts and find a weird conversation where Trump was getting angry about the makeup one celebrity wore on the show, but it isn't exactly horrifying. In fact, nothing has come out that's more vulgar than the Access Hollywood tape, which also got Billy Bush suspended from Today.
Regardless, at this point, it's unlikely that any Celebrity Apprentice footage will be released, whether or whether not it places the Presidential candidate in a bad light. Instead, we'll just have to wait and see what else Donald Trump says while speaking in interviews and debates. In the meantime, MGM and NBC are getting ready to launch a new version of Celebrity Apprentice, this time starring Arnold Schwarzenegger. You can check out more details about the new version of the series, here.
Amazing Race & Top Chef superfan with a pinch of Disney fairy dust thrown in. If you've created a rom-com I've probably watched it.
Your Daily Blend of Entertainment News
Thank you for signing up to CinemaBlend. You will receive a verification email shortly.
There was a problem. Please refresh the page and try again.