Rory Is Hilariously Bad At Posing In These New Gilmore Girls Posters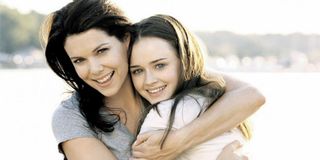 Look, we all love Rory Gilmore from Gilmore Girls, that is not a fact that can be disputed. But, it seems like our girl might be having some trouble posing in these new official images for the Netflix revival. Let's take a look at her attempts at posing and examine the issues as we go from an odd shot to the weirdest of the bunch, shall we?
First up, we have Lorelai and Rory Gilmore posing with a mini American flag and a couple of sparklers for the Summer installment of Netflix's Gilmore Girls: A Year in the Life series. And, at first, all you see is how adorable it is. Lorelai has her arm around Rory; they're both smiling as they hold the signs of July 4th fun...But, then your eye drifts down and you see how Rory is holding that flag. It's kinda awkward, right? Like she's not sure how to do it. Don't even get me started on how she's holding the sparkler, friends. Why is Rory's elbow bent all the way in like that? Is she trying to catch that cute sleeveless shirt on fire? Those sparks are way too close for my comfort, and they should be too close for hers, too. I can only assume that we wouldn't be seeing this shot if she had caught on fire right after it was taken, so I suppose everything is OK. It still freaks me out, though.
Next, we have this lovely Spring photo. Flower petals are falling from the sky, and I can imagine a rich, beautiful scent filling the air as Lorelai and Rory hold...Wait a minute. How is Rory holding those flowers? They're not even in her hands; she's just kind of got them smooshed up against her chest. Meanwhile, her mom is holding flowers like a real grown-ass adult lady person, you know, with her hands on the stems out in front of her. Is this going to become a pattern? After seven seasons did we somehow not notice that Rory Gilmore doesn't actually know how to hold every day items like a normal person?
Aw, crap. Damn it all to hell, Rory Gilmore! That is NOT how you hold a coffee cup, young lady! Especially when you're grabbing on to some giant mug for one of your many coffee snorting sessions. After all the coffee you've drunk in your life, you must know by now that you need to support a cup of this size with as much of your hand as possible. The finger that goes through the coffee mug handle should be positioned so that you can actually hold the damn thing and successfully bring it to and from your mouth without any spillage. This is why your mug is starting to tilt and Lorelai's mug is perfectly positioned in her hand. Just...dammit, Rory. You went to Yale, we expected so much better from you than this!
Well, you can bet that when Gilmore Girls: A Year in the Life premieres on Netflix on November 25, I'll be examining every coffee cup, flower and sparkler that Rory holds. Along with all the books, bags and other assorted daily items. We need you to know how to hold stuff, Rory Gilmore. Don't let us down, girl.
Your Daily Blend of Entertainment News
Yennefer's apprentice, Gilmore Girl; will Vulcan nerve pinch pretty much anyone if prompted with cheese...Yes, even Jamie Fraser.