What The Gilmore Girls Revival Plans To Do About Rory's Former Boyfriends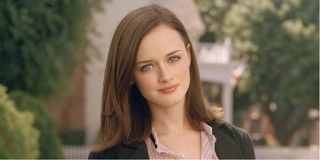 Ever since we found out that all of Rory's former boyfriends will be appearing in the Netflix reboot, every Gilmore Girls fan under the sun has been wondering if she's destined to get back together with one of them. Now, thanks to Alexis Bledel, we have a hint as to what's going to happen. It looks like, at the very least, fans will be treated to some closure with each of those past relationships.
Well, color me intrigued. It sounds like whether you're Team Dean, Team Jess or Team Logan, you will be treated to some fine Rory-and-her-former-boyfriend scenes. With the exception of Logan, Rory's last interactions with her former loves each went, well, if not easily, then at least not totally adversarial. She parted from Dean and Jess in a way that suggests that they would be able to either stay friends, or at least be friendly whenever they ran into each other. Her situation with Logan was different, of course, since the last thing we saw her do was refuse his marriage proposal so she could follow Obama on the campaign trail as a reporter. I bet any interactions she may have had with him over the past eight years were probably a bit chilly.
So, we're going to get closure, and that's great and all, but what kind of closure are we looking at for Jess, Dean and Logan here? If Alexis Bledel's words to Us Weekly are accurate, and I can only assume they are, then each guy is getting something different, which makes total sense, seeing as how each relationship was very different.
Rory and her first love Dean started off as the perfect young couple. Sure, she was way smarter and more ambitious than him, but they adored each other, despite her grandparents feeling that he could never be good enough for her. The relationship went pretty well, until bad boy Jess comes into town and manages to steal Rory's heart away. Jess is smart enough to really tango with Rory intellectually, but he's too troubled for their relationship to be anything but tumultuous. After some time apart, though, they manage to become friends once Jess begins to get his life together. She and Dean find their way back to each other in the worst way, and he eventually leaves her when he realizes they've grown too far apart.
Rory and Logan's relationship was marred by the fact that she was on the outs with her mom Lorelai for a significant portion of it, even though Logan was, for a time, her grandparents' dream come true for her. He introduced Rory to the life of privileged rich kids she'd never really known well, and led her in many directions that Lorelai hated. After a very adult college relationship, though, they parted with that proposal denial I mentioned above.
Alexis Bledel makes it sound like we can expect some very different moments for Rory and each of her former boyfriends, but it doesn't exactly sound like she's going to be getting back together with any of them. Her use of the word "closure" does make it sound like each of these relationships is a former chapter in her life that can't, or won't, anyway, be relived. And, maybe that's for the best. Many fans who really examine these relationships usually feel like a man who combines the best traits of all the guys is really best for Rory. Now that she's a career woman in her thirties, maybe she can finally settle down enough to find exactly that.
Your Daily Blend of Entertainment News
Yennefer's apprentice, Gilmore Girl; will Vulcan nerve pinch pretty much anyone if prompted with cheese...Yes, even Jamie Fraser.