5 Awesome Moments From The Gilmore Girls Trailer That We Can't Get Enough Of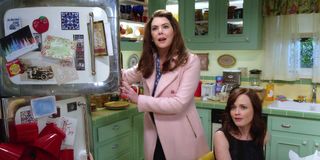 Gilmore Girls fans have been having the best freak out all day now that we've finally gotten a full trailer for the Netflix revival. While news about Gilmore Girls: A Year in the Life, has been coming fast and furious for about a year, pictures and scenes from the four, 90-minute specials haven't been as frequent. Now, though, with the specials about to hit Netflix in a month, the powers that be have finally given us a good glimpse at what will be going on in the new episodes. Here are the five moments that made us yell "Oy, with the poodles, already!" since the trailer dropped.
Kirk At Friday Night Dinner
Um, what the hell, Kirk? How did this happen? Now, we all know that Lorelai has had some moments of intense dislike when it comes to Friday night dinner with Rory and Emily, but how did she allow this particular bit of weirdness to transpire? Was Kirk just standing around outside Lorelai's house when she was getting ready to leave? Did he manage to convince Lorelai to drive him somewhere and then just tag along? And, why on Earth would Emily let him in the house? Kirk's a good guy, but, come on, he's a tall ball of odd. She doesn't know Kirk, and Emily's not exactly the most willing hostess when it comes to people from outside of her Hartford circle. The trailer makes it clear that she's not even sure who Kirk is, so I can't help but wonder how Lorelai explained his sudden Friday night dinner presence. I'm going to be wondering about this one for the next month.
Carole King Is Back
Boom, baby! Now, this one was easy to miss, but if you look at the photo above and can manage to take your eyes off of a beaming Lorelai, you'll see everyone's favorite music store owner, Sophie Bloom, sitting in the second row right between Babette and Gypsy. See? I know! It's awesome, isn't it? With all the news we got about how many of the best of the Stars Hollow community would be appearing in the revival, word didn't quite get out about whether or not the lady who let Lane learn to play the drums in her music store after hours would show up. Now we can all rest assured that, even though they chose to hide the spunky shop owner in the trailer, she will be back on the Stars Hollow scene.
As most people probably know by now, Sophie is played by legendary singer, songwriter and musician Carole King, who also wrote and performed the warm and bubbly Gilmore Girls theme song, "Where You Lead". I'm going to be honest here, now that I know Sophie's going to be around, I can't decide if it's a great idea for her to hum/sing a bit of the theme song on the show, or if that's the worst TV related idea I've ever had. Oh, who cares. Sing that song, Carole!
Emily Gilmore In...Jeans And A T-Shirt?!
I was so stunned by this that I had to rewind the scenes several times because OH MY GOD WHAT IS EMILY WEARING?! Really people, when is Emily Gilmore not in a snazzy knit suit? When? Oh, sure, we saw her in a fancy robe a couple of times, but she's always dressed like she's going to a fancy DAR lunch. I don't think we've ever seen her arms. And, heavens to Betsy, these aren't even super fancy jeans with a t-shirt that only a rich person would wear, oh no. The jeans are clearly worn; they have real, actual holes in them, people. Don't even get me started on that shirt. What does it say? Candies? Alright, where in the hell did Emily get these clothes, why is she wearing them and what made her put them on while there would be people who aren't family in her house? I need answers, Gilmore Girls!
Wacky Stars Hollow Events
The Old Muddy River Bridge Knit-A-Thon, End Of Summer Madness Festival, The Bracebridge Dinner, Bid-a-Basket Festival, Founders Firelight Festival, The 24-Hour Dance-A-Thon, The Festival of Living Art...I could go on, really, for a whole paragraph about the weird and wacky list of official Stars Hollow events that we saw over seven seasons of Gilmore Girls. Now, thanks to this brilliant trailer, we know that the Stars Hollow festival tradition is still alive and well. We will at least be treated to the Spring International Food Festival and whatever event has led the two people later in the trailer to dress as Pilgrims, jump on a stage and do a saucy jig of some sort. We also get Rory and Lorelai dressed as hippies later in the ad, and that could easily be for some nutty town event, too. I'm just spit-balling here, but if we wind up watching scenes at a Hippie Parasol Party, I will never stop saying "I told you so."
A New Gilmore Girls Character
Speaking of the dancing Pilgrims, this last entry is a bit of a wild card. Look up there at the lady Pilgrim on the right. That, I believe, is actress Sutton Foster (Younger, Bunheads), who we know will be playing a new character in Gilmore Girls among all the old favorites who've returned. This is blockbuster news, really, because until this trailer dropped her in toward the end, we didn't know anything about her character except that she's a struggling actress who gets a part in the town musical. Obviously, this look at her doesn't tell us the name of her character or how much we can expect to see her in Gilmore Girls: A Year in the Life, but now we do know that she is desperately trying to prove that she belongs on that stage. Look at how hard she's dancing! I can't imagine that she'd come all the way from New York to do the Stars Hollow play, so she might even be a resident with dreams of the big time.
Well, if seeing this glimpse at what modern life is like for our Gilmore Girls doesn't make you giddy for the revival, nothing will. Break out the pizza, coffee and Pop Tarts, Gilmore Girls: A Year in the Life will hit Netflix on November 25.
Bachelor Nation, Gilmore Girl; will Vulcan nerve pinch pretty much anyone if prompted with cheese...Yes, even Jamie Fraser.
Your Daily Blend of Entertainment News
Thank you for signing up to CinemaBlend. You will receive a verification email shortly.
There was a problem. Please refresh the page and try again.