Sherlock Season 4 Finally Has A U.S. And U.K. Premiere Date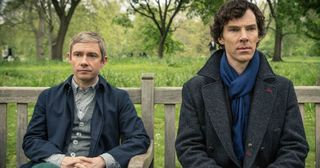 Sherlock Season 4 has been a long time coming. In fact, it's been in development for so long that it has kind-of felt like something that was still in the distant future. However, Season 4 now has a concrete release date in the United States as well as the UK. The new episode, called "The Six Thatchers" is set to premiere on January 1, 2017.
Some episodes of Sherlock have followed prominent stories in Sir Arthur Conan Doyle's canon, including "A Study In Pink" (modeled after "A Study in Scarlet") and "The Hounds of Baskerville" (based on "The Hounds of the Baskervilles"). A lot of other episodes have pulled bits and pieces from various Sir Arthur Conany Doyle works to tell a very different story. Some have hypothesized that "The Six Thatchers" will be a take on "The Six Napoleons," a story about Sherlock investigating six busts of Napoleon that have been busted. If that's true, theoretically "six Thatchers" could refer to Margaret Thatcher busts.
We also know the title of Season 4, Episode 2. That one is rolling with "The Lying Detective," and Conan Doyle has a story about a dying detective, leading many to believe that story is what the second episode will be based on.
Production for Sherlock Season 4 began back in April of 2016, so we did know new episodes were coming. At the time, the BBC revealed that Watson and Mary would be preparing for parenthood. For his part, Sherlock Holmes would be back on British soil to solve a brand new mystery involving "laughter," "shocks" and "tears." Later, we learned that Toby Jones is also on board for Sherlock Season 4, and is set to play a villain in the series. "The Six Thatchers" is the premiere episode for Season 4, and Jones is not expected to show up until the second episode of the season, however. So, if the "lying detective" is the same as the "dying detective," Jones could be playing Culverton Smith. In fact, some sleuths really seem to think so.
We're getting pretty far down the rabbit hole with the speculation, but thankfully it looks as if it won't be too much longer before we can actually catch new episodes of the popular series. The show is coming back in January, and word is still out regarding whether or not Season 4 will be the last for the series.
For years now, it has been tough for the actors as well as the creative team to find time to make new episodes of the hit series. Benedict Cumberbatch and others have expressed that the episodes end in a place that may mark "the end of an era," although the show has yet to make an official announcement regarding the future of the program. We'll let you know if indeed we are reaching the end. In the meantime, here's what TV has coming up.
Your Daily Blend of Entertainment News
Reality TV fan with a pinch of Disney fairy dust thrown in. Theme park junkie. If you've created a rom-com I've probably watched it.