Will Smith Once Had To Borrow Money From A Fresh Prince Fan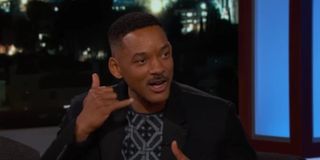 Will Smith is one of the biggest stars in showbiz today. 2016 was a huge year for him as Suicide Squad earned more than $740 million at the box office when it hit theaters over the summer. He's closing out the year with the drama Collateral Beauty. Smith dropped by Jimmy Kimmel Live! to promote the new movie, and he shared a story of a time not so long ago when he had to borrow money from a fan despite his big and small screen status. Check it out!
Who knew that a movie star like Will Smith could be short on gas money when he's on the way home to his movie star wife in their mansion? Smith clearly didn't take the contents of his gas tank into account when he left his house without his wallet on that fateful day. He's just lucky he crossed paths with a Fresh Prince of Bel-Air fan who was willing to lend him $10 for enough gas to make it back to his place.
For those of us watching from home, Will Smith's gas station misfortune is a fun story from late night television. For the guy who was tapped for $10 from the former star of The Fresh Prince of Bel-Air, it might be a story to tell the grandkids someday. He even has video proof and a selfie! Of course, there might be thirty-something guys all over California now claiming to have given Will Smith ten bucks and photoshopping themselves into a fake selfie, but the real guy will know. If he's a true Fresh Prince fan, knowing might just be enough.
It sounds like the fan's mind was a little bit blown by his gas station encounter with Will Smith. He might not have been chillin' out, maxin,' or relaxin' all cool for a while after he got an unexpected selfie with the star. He's lucky that Smith didn't whistle for a cab (or call his wife) to get home. $10 is a small price to pay for that kind of memory.
Will Smith is also lucky he can spot The Fresh Prince of Bel-Air fans just by looking at them. It's a pretty safe bet that anybody in their thirties saw at least an episode or two back in the day. Still, assuming by the look of him that he was a fan was a bold move. Smith didn't even use the surefire way of telling a fan from a non-fan: busting out the first line of the Fresh Prince theme song. The show may have ended in 1996, but I'd say that most regular viewers can't help but finish "Now this is a story all about how--" with "--my life got flipped-turned upside down!"
The Fresh Prince of Bel-Air probably won't return to the airwaves for a reboot or reunion, according to Will Smith himself. He does seem to have fond memories of his time on the show, however, no matter what unflattering things a former co-star has to say about him. Smith has even performed the classic theme before, including in front of an audience during an appearance on Ellen.
Fresh Prince may not be destined for reboot, but you can catch Will Smith on screen next when Collateral Beauty arrives in theaters on December 16, 2016. Tune in to ABC on weeknights at 11:35 p.m. ET to see the latest on Jimmy Kimmel Live, and take a look at our midseason 2017 premiere schedule for an idea of what you can watch on TV in the coming months.
Resident of One Chicago, Bachelor Nation, and Cleveland. Has opinions about crossovers, Star Wars, and superheroes. Will not time travel.
Your Daily Blend of Entertainment News
Thank you for signing up to CinemaBlend. You will receive a verification email shortly.
There was a problem. Please refresh the page and try again.