7 Cool DC Projects That Would Be Perfect For The CW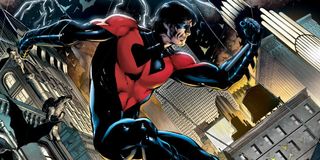 It's almost hard to believe that only a few short years ago we watched Oliver Queen escape from his hellish purgatory on Lian Yu to properly begin the Arrow-verse. In the years since Arrow premiered on The CW, we have had the immense pleasure to see DC's coolest vigilantes, speedsters, and aliens (to name a few) one of the most cohesive superhero universes this side of the silver screen. Between Supergirl, The Flash, Arrow, and Legends of Tomorrow, I think it's safe to say that The CW's small screen DC universe has become a bonafide success.
However, as diehard fans of the greater DC lore, we never stop thinking about where the Arrow-verse could potentially go from here. There are so many heroes and villains that remain unused (or underused) that the possibilities genuinely seem endless. With that in mind, we have compiled a list of potential DC projects that would be absolutely perfect for The CW. Check out our ideas and let us know what you think! Without further ado, let's get the ball rolling with a spin-off for Oliver Queen's first sidekick...
Nightwing
As of right now, I clock the odds of a genuine Batman TV show on the small screen (NOT Gotham) at slim to nil. However, a solo series centering on Batman's greatest protégé doesn't seem nearly as farfetched. After becoming disillusioned with his role as the sidekick of The Dark Knight, Dick Grayson decides to strike out on his own by ditching his Robin tights for an endlessly more badass new moniker: Nightwing. Arrow has already established that Dick's home city of Bludhaven exists within The CW's DC universe, and a Nightwing series could have just the right amount of ties to Gotham while still maintaining its own identity.
The Outlaws
Establishing Roy Harper's Arsenal as a literal "outlaw" over the course of the last year on Arrow almost makes this a little bit too perfect. Red Hood and the Outlaws was a comic book arc that debuted during DC's New 52 run, and while it received mixed reviews from critics, the overall concept is something that could work wonders in a serialized television format. Consisting of Arsenal, Red Hood, and Starfire, The Outlaws is a trio of superheroes and ex-Titans who come together in the face of their own personal demons. The overall story broaches some hard-hitting topics -- such as Arsenal's alcoholism, as well as the morality of killing -- and it would be a phenomenal premise for a spin-off centering on Colton Haynes' Roy.
Suicide Squad
I think we can all agree that Task Force X is one of the most underused (and yet most highly entertaining) elements of the Arrow-verse. Much of this obviously has to do with a desire to avoid confusion with its silver screen counterpart, but I think there's ample room for a Suicide Squad solo series to thrive on The CW. The framework for such a series is already definitely in place, and it's clear that the small screen is a perfect home for a team of disposable heroes. Think about it; you know a Suicide Squad movie isn't going to kill of Margot Robbie's Harley Quinn, but a TV show featuring lesser-known actors portraying low-tier characters could easily rack up an insane body count, and that's what Task Force X is all about.
Canary Solo Series
Arrow was already popular going into its second season, but the casting of Caity Lotz as Sara Lance a.k.a The Canary proved to be nothing short of genius back in 2013. The character has gone on to become a fan-favorite over the last few years, and she has really spread her wings as White Canary on Legends of Tomorrow. That said, if any member of the current Legends line-up could carry his or her own series, it's definitely Sara. She's tough, complicated, and she consistently has issues that she needs to work out in her personal life. Getting her off of the time-travel series and allowing her to take center stage could really allow the character to flourish in unprecedented ways.
Aquaman
After years of floundering (fish humor) on the sidelines, we think it's time for Aquaman to finally take center stage and join the Arrow-verse in earnest. The character previously appeared in several episodes of Smallville (portrayed by Alan Ritchson) as well as a failed 2006 pilot featuring Justin Hartley as the titular aquatic hero. Superhero television has come quite a long way since those days, and we think the climate has finally shifted to the point where audiences may actually accept Arthur Curry as a mainstream hero on a weekly basis. Besides, The Flash already established that his home world of Atlantis definitely exists on Earth-2; the framework is in place for him to finally show up and make a big splash (water humor) on The CW.
Teen Titans
The CW struck gold when it consolidated its misfit heroes and villains for Legends of Tomorrow, and now it has the opportunity to do that again with its sidekick characters. I'm not sure if it was by accident or by design, but the Arrow-verse has slowly but surely cultivated most of the necessary building blocks for a kickass Teen Titans team. We already have Miss Martian, Speedy, Kid Flash, and Artemis, and there are fairly clear paths to developing characters like Cyborg and Superboy available. Throw in one Boy Wonder and you've got yourself the first genuine, live-action Teen Titans TV show of all time. The CW already skews fairly young with its content, but a Teen Titans series could focus on some genuine issues associated with youth and growing up.
Constantine
Out of all the characters present on this list, John Constantine is definitely on oddity due to the fact that he technically already had his own shot at a solo series. Constantine's short run on NBC proved to be an incredible disappointment, but the mystical hero definitely has a strong enough fan base, and he has already debuted in the Arrow-verse. The CW could easily pick up where NBC left off, and give the character the series that he truly deserves. Beyond Constantine's overall popularity as an anti-hero, it's worth noting that The CW doesn't currently have a series that focuses on ideas like magic and mysticism, which makes him a perfect candidate to fill that void.
Originally from Connecticut, Conner grew up in San Diego and graduated from Chapman University in 2014. He now lives in Los Angeles working in and around the entertainment industry and can mostly be found binging horror movies and chugging coffee.
Your Daily Blend of Entertainment News
Thank you for signing up to CinemaBlend. You will receive a verification email shortly.
There was a problem. Please refresh the page and try again.