Legends of Tomorrow Just Revealed Its Weirdest Plot Twist Yet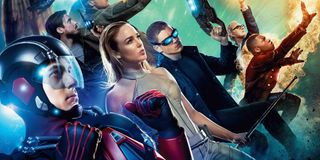 Warning: MAJOR spoilers ahead for the midseason finale of Legends of Tomorrow, don't read any further if you are not caught up on the time travel series
From the very beginning of Legends of Tomorrow's second season, I firmly believed that the show had fixed its biggest Season 1 issues by adding a new layer of mystery to the equation. This improvement felt particularly notable when it came to the sudden disappearance of Rip Hunter. On that note, tonight's midseason finale definitely resolved one of the season's biggest mysteries so far, but it did so in a way that only created a new wave of weird questions. Rip Hunter has finally come back, but his return to Legends of Tomorrow is easily one of the most bizarre Legends moments that we have ever seen.
First, let's get ourselves up to speed. The midseason finale of Legends of Tomorrow saw the team go back to Chicago during Prohibition in order to square off against Al Capone and the Legion of Doom. During a violent (and undeniably awesome) skirmish, the Legion managed to get its hands on a mysterious amulet that contained a map leading to an object known as the Spear of Destiny. However, in order to retrieve the Spear, they need to find Captain Rip Hunter. Cut to Los Angeles in the 1960s, where we see an American-accented Rip Hunter directing a sci-fi film seemingly based off of his own experiences as a Time Master.
So ends the first half of Legends of Tomorrow's second season. Finally, after wondering what the hell happened to Rip Hunter during that atomic-powered battle with the Nazis in 1945, we received a resolution that created far more questions than answers. How did Rip find himself transported to 1967? Why is he directing a movie? Perhaps most importantly: why does he have an American accent? A mystery that we thought would have a relatively cut and dry ending has just become so much weirder, because nothing on Legends of Tomorrow is ever easy or normal.
As excited as we are to see the leader of the Legends return to the fray, we should approach the reunion with a healthy dose of concern as well. During a recent interview with CinemaBlend's own Laura Hurley, Vixen actress Maisie Richardson-Sellers made it abundantly clear that Rip will return to the team a thoroughly changed man. This means that the Rip who boards the Waverider during the latter half of the season may be harboring sinister intentions, or (perhaps more likely) his jarring journey through time left him with few memories of his former life.
This becomes even more concerning when we consider how things have changed on the team since Rip Hunter disappeared. Sara Lance has become a strong and capable leader for the team in his absence, and his return will undoubtedly cause a shift in the delicate balance of power and responsibility. One of the only ways that won't happen is if Rip ultimately isn't long for this world; it's a frightening prospect, but at this point no possibilities are off of the table in the Legends of Tomorrow universe.
What did you think of tonight's huge Legends of Tomorrow twist? Are you excited to see Rip Hunter back in action? Let us know what you think in the comments section below!
Legends of Tomorrow will return on Tuesday, January 24 at 9 p.m. EST on The CW. For more information concerning all of the most highly anticipated spring debuts, make sure to check out our comprehensive midseason premiere guide and fill out your television viewing schedules accordingly!
Originally from Connecticut, Conner grew up in San Diego and graduated from Chapman University in 2014. He now lives in Los Angeles working in and around the entertainment industry and can mostly be found binging horror movies and chugging coffee.
Your Daily Blend of Entertainment News
Thank you for signing up to CinemaBlend. You will receive a verification email shortly.
There was a problem. Please refresh the page and try again.