Why One Flash Actor May Have Trouble Returning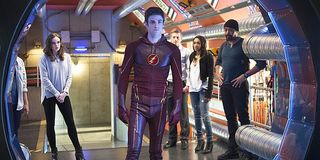 The Flash has killed off a lot of its characters in the first two and a half seasons, but it has also used timeline tweaks and parallel worlds to make sure that some folks don't stay totally dead, or at least don't stay dead for all that long. One of the biggest characters to seemingly bite the dust in Season 2 was Hunter Zolomon, a.k.a. the big bad supervillain known as Zoom. Actor Teddy Sears landed a role on the upcoming Fox series 24: Legacy after finishing his run as Zoom, and he recently explained why he could have some difficulty returning to The Flash:
Teddy Sears is currently under contract with Fox for his part on 24: Legacy, so returning to The Flash on The CW isn't quite as simple as Sears hopping a flight to Vancouver to film with Grant Gustin and Co. for a few days. For the time being, Fox would need to lend Sears to The CW if a Zoom return were to happen. Such a deal wouldn't be unprecedented from Fox, as 24: Legacy star Corey Hawkins was able to film limited Walking Dead scenes while contracted with Fox. Considering that Zoom is currently dead and unlikely to return as a regular character, perhaps Fox could do the same for Teddy Sears and let him drop back in on The Flash. Judging by his reveal to TV Guide, Sears is clearly game to reprise his role.
Of course, if Teddy Sears does return to The Flash, it may be to play a very different role than he played in Season 2. Zoom was taken away by the Time Wraiths in the Season 2 finale. His face was peeling and melting away as the Wraiths carried him off to the Speed Force, and he began to look an awful lot like the comic character known as Black Flash. The symbol on his chest even changed color into the traditional white of Black Flash:
In DC Comics lore, Black Flash is a mysterious entity that fulfills the role of Death for those who possess the powers of super speed. When speedsters die, Black Flash arrives to carry them back to the Speed Force. He hasn't been spotted in his traditional comic form for any speedster death on The Flash so far, so it could make sense if he starts turning up in the wake of Zoom's return to the Speed Force.
Technically, Teddy Sears might not be needed for each and every appearance of Black Flash. The character wears a black version of Barry's Flash suit, and his head is almost entirely covered by a cowl. The Flash would just need to get creative in filming to cover for the fact that Black Flash is not always played by Sears, that is, if it's a direction the show wants to go in.
That said, Flash executive producer Andrew Kreisberg has said that there were no immediate plans to bring Black Flash onto the show, and Barry has plenty going on with Savitar and his crazy backstory without a Speed Force grim reaper turning up. If Kreisberg does decide that the time is right to introduce the former Zoom as the new Black Flash, we can only hope that Fox will agree to lend Teddy Sears to The CW.
You can catch Teddy Sears back on the small screen when 24: Legacy debuts on Fox on Sunday, February 5 after the Super Bowl. Take a look at our midseason TV premiere schedule to see what else will hit the airwaves in the near future.
Resident of One Chicago, Bachelor Nation, and Cleveland. Has opinions about crossovers, Star Wars, and superheroes. Will not time travel.
Your Daily Blend of Entertainment News
Thank you for signing up to CinemaBlend. You will receive a verification email shortly.
There was a problem. Please refresh the page and try again.